Did you know you can drop someone off and pick someone up for free at Stansted Airport? I have found a way at Stansted Airport drop off where it is completely free. The express set down is currently £7 for 10 minutes and £25 for over 15 minutes. It's not worth the charge and I am going to show you how you can avoid the express setdown charge and park for up to 60 minutes at Stansted Airport drop off for free.
Related Posts
Stansted Airport Mid Stay Free Parking
Stansted Airport Drop Off Mid Stay Postcode: CM24 1RW
Head to Stansted Airport mid stay pick up.
When you get here follow signs to the "MID STAY CAR PARK" and then "FREE SET DOWN." You will get a ticket when you enter here so do make sure you take note of the time as only 60 minutes is free. Also do not lose this ticket! Otherwise, you will receive the maximum fair. If you do stay longer it costs £5 for up to 2 hours. Any longer than two hours it works out at a daily rate.
Just in case you have no signal, here are the written directions:
Leave the M11 at Junction 8a. Follow the road for just over a mile and take the Stansted Airport exit and branch left. At Bassingbourn Roundabout take the 3rd exit and follow the signs of Stansted's mid-stay car park.
If you are picking up a passenger, I would check that the flight is on-time (I personally use the app flightrader24 to check where the plane is.) If it is on time, I would try to arrive at the car park 15 minutes after that flight has landed. You do not want your free 60 minutes to be up! Worst-case scenario your passenger will be waiting a bit for you.
Free parking near Stansted Airport Drop Off
I have been told about a few local hotels that have a free one-hour parking limit, however, I have never tried this myself. You will only find out when you enter and by that point, it will be too late and you may have a hefty fine. I would highly recommend the FREE SET DOWN at Stansted Airport's Mid Stay Car Park. This is where I would go to pick people up at Stansted Airport. Not only is this the cheapest way to drop someone off it is also easiest to get picked up as there is a free 60-minute wait time.
London Stansted Airport Shuttle Bus for Passengers
Stansted Airport Drop Off – Departures Mid Stay
When you reach the FREE SET DOWN in the mid-stay car park. Unload and wait at bus stop K (the closest bus stop). The free shuttle comes every 10 minutes and is only a 7-minute ride to the terminal. It is as easy as that.
Stansted Airport Mid Stay Pick Up
When you exit the airport find the mid-stay car park shuttle bus stop. If you are unsure find someone or ask the driver. Get off at Stop K, Free Set Down where hopefully your lift will be waiting for you.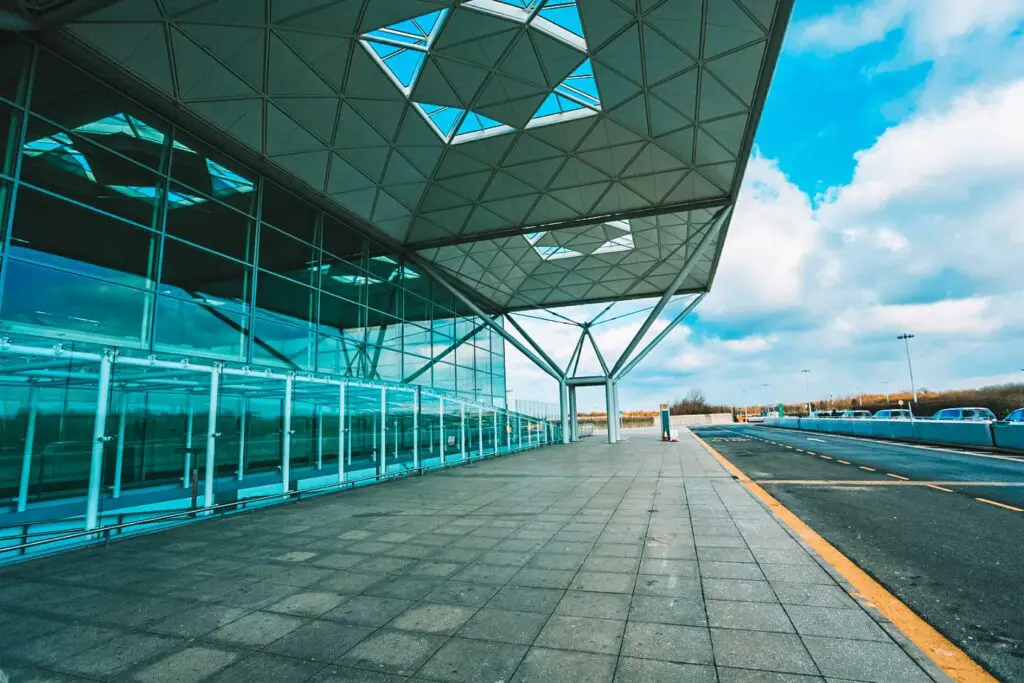 How long can I wait at Stansted Airport drop off?
Mid Stay:
– Under 60 minutes: Free
– Up to 2 hours: £5
Express Set Down:
– Up to 15 minutes: £7
– Over 15 minutes: £25
Other ways to get to Stansted airport drop off
You can get to Stansted airport in a variety of different ways such as by train, bus or car. Make sure you book in advance for a cheaper rate if you want to drive. Also, note that the further you park from the airport the cheaper is it. For example, the long-stay car park will be cheaper than the mid-stay and the mid-stay will be cheaper than the short stay etc.
A more sustainable way to travel to the airport is by public transport. If you're coming from London there is a national express service that takes you straight to the airport. These are usually quite pricey on the day so make sure you book in advance. Also if you know you want a return ticket, purchase it at this time. Return tickets will work out cheaper than two single journeys.
To book your ticket click here.
Stansted Airport Short Stay Prices
Although the Stansted Airport short stay is super close to the terminal it does come at a cost. There are different coloured zones in the short stay car park – which is helpful for finding your car. They are orange, red, yellow and blue. All of the zones are within a 1-4 minute walk to the entrance of the terminal. These are considered premium spaces and are expensive because of this. Orange zone seems to be the most popular zone and there is free cancellation should you not need to park your car anymore.
Stansted Parking Discount for Local Residents
London Stansted Airport offers a discount for local residents to use the express set down. This is is open to everyone living within a 10-mile radius of London Stansted Airport. This is for the express set down only.
If you live within 5 miles from the Airport: 50p for up to 10 minutes.
If you live within 10 miles from the Airport: £1 for up to 10 minutes.
Between 10 -15 minutes: £1 per minute.
Over 15 minutes: £25
Re-entry within 30 minutes: £20
Other things to note:
This is for picking up and dropping off purposes only. Vehicles must not be left unattended.
Replacement cards are £5
These cards are not to be inserted into the machine
Only 1 card per household (cards are linked to property)
Discounts are not for commercial use, only for personal purposes only.
This discount is only for the express set down. All other parking charges apply at the full rate.
If you would like to apply simply fill out this form here.
Directions to Stansted Aiport Express Set Down
1. From the M11 motorway, use Junction 8a if approaching from the London direction or Junction 8 from the Cambridge side.
2. Follow signs for the airport.