North Wales Travel Guide
If you love nature, going on walks or love to climb, North Wales is the place for you! It is absolutely stunning and the views are incredible. There is so much to do in the area you will honestly be spoiled for choice. I have put together a North Wales travel guide which has everything you need to plan your trip to North Wales.
North Wales Travel Guide Quick Information
Transportation: Although having a car isn't a necessity, I would definitely drive or rent one. There is transport, however, from experience, they don't come very frequently or you have to transfer many times. The downside to this is that pretty much everyone drives and spaces are limited. You will also have to pay for parking on top of that – although you may find a layby that is vacant and you don't need to pay (some still have a parking metre).
Bring plenty of food and water. There weren't many places for food in these places or they are expensive as there is only a few. I bought two, 2 litres of bottles of water with me that put in a cool bag in my car. I finished them both within a few days. If you are planning on eating in a restaurant make sure you book in advance. Due to covid, social distancing is in place and restaurants are therefore not at their full capacity.
Bring change. Some attractions only accept cash, I found this out when researching so I was prepared. It's good to have spare change too as some parking metres only accept cash and some don't even give you change.
North Wales Trip Planning
Best time to go to North Wales
In March, April and May the scenery is absolutely stunning and not as busy as the summer months. This is a great time to view wildlife and to see Wales at a mild temperature.
June, July and August are the summer months, not only are they the busiest due to the lovely weather but places are very crowded. You may struggle to find car park spaces or find places to eat due to the holidays. The weather however is beautiful (if you enjoy the heat).
September, October and November are the autumn months in Wales. Although it may rain quite a bit, you may still find some sunny days. These months are quieter and in my opinion are great months to go climbing as its not too hot and not too busy. Although temperatures will be lower than the summer months, they dont fall drasticially although you may been a jumper to keep warm.
December, January and February are the winter months and the coldest of the year. You may find snow in the higher parts of Wales however winter walks are still very popular. If you don't like the cold I would try to avoid these months as temperatures can be zero degress or lower.
Try to avoid peak times if you are on a budget as prices really do sore up. I noticed that for some activities the prices are significantly more during the school holidays and they are also the busiest.
Rough Budget for the Budget Traveller
I spent under £70 per day which included everything: Accommodation, fuel, activities, food and transport. Note: This does include my fuel for a 600-mile drive return trip to and from Wales as well.
Accomodation
B&B: £55 per night – this was the cheapest room I found.

(I actually paid £47.30 for the room as I used a cashback site for 4% off and booking.com gave me 10% off)
Click here for Quidco cashback. Click here for top cashback – see which one has the best deal.
Food
Max: £15 per day per person – if you bring your own food this could be nothing.

I brought my food from home as I had the luxury of a car and I am so glad I did. I didn't see a single supermarket only a tiny spar for the whole week. Save your money and bring your own food.
Transport
Sherpa Bus £5

The Sherpa bus was a return to Snowdon for the day. Some days I just walked everywhere and didn't use my car at all.
What to pack for travelling North Wales
Always bring waterproofs with you. It could be a sunny day and then suddenly rain will literally come from nowhere. Also make sure they are good quality waterproofs, when it rains it pours down. (Don't make my mistake by getting a cheap Primark raincoat).
Walking is very common in this area and there are many paths to choose from with different durations and difficulties. Bring comfortable trainers and/or your best walking boots, the walks are definitely worth it and you don't want to have sore feet after day one.
If you are wanting to climb up Snowdon, layer up. It can get cold up there and you need to be prepared. Your waterproofs will also come in handy to guard you against the wind or rain coming your way.
Don't forget the sunscreen. North Wales has a higher elevation and you are therefore closer to the sun. A lot of people who climb Snowdon come back down looking as red as lobster – be prepared.
Best things to do in North Wales
Climb Snowdon
Snowdon is the busiest mountain and for good reason. There are many ways up there, the main three tracks are minors track, pyg track and Llanberis track. There is also Crib Goch on the pyg track where you walk along the ridge. This is the track that I personally did and boy it was worth it – perhaps not the best hike is you are afraid of heights. For more info about climbing Crib Goch click here.
There is also a railway that takes you straight up if you are not into your walking. When I went in July 2021 it wasn't running so be sure to check and book in advance to avoid disappointment.
Visit the picturesque village of Betws y coed
This very quaint postcard-perfect village. This is in fact where I stayed when I was in North Wales. There are many walks here that can lead you up to the mountains. There are also waterfalls within walking distance which is perfect.
Visit Portmeiron and experience Italy in Wales
Portmeirion is an Italian style village created by Welsh architect Sir Bertram Clough Williams-Ellis. When I arrived I was immediately transported to Italy and I even threw some friends off thinking that I was in Italy. This village is for tourists although there are people who live there. I went in July and it was incredibly busy. There is a gorgeous coastal and woodland walk that I would highly recommend if you are visiting Portmeirion. Do make sure you check the tide before you go. I ended up knee-deep in water as I had to cross the beach. There is free parking but the entrance fee is £15!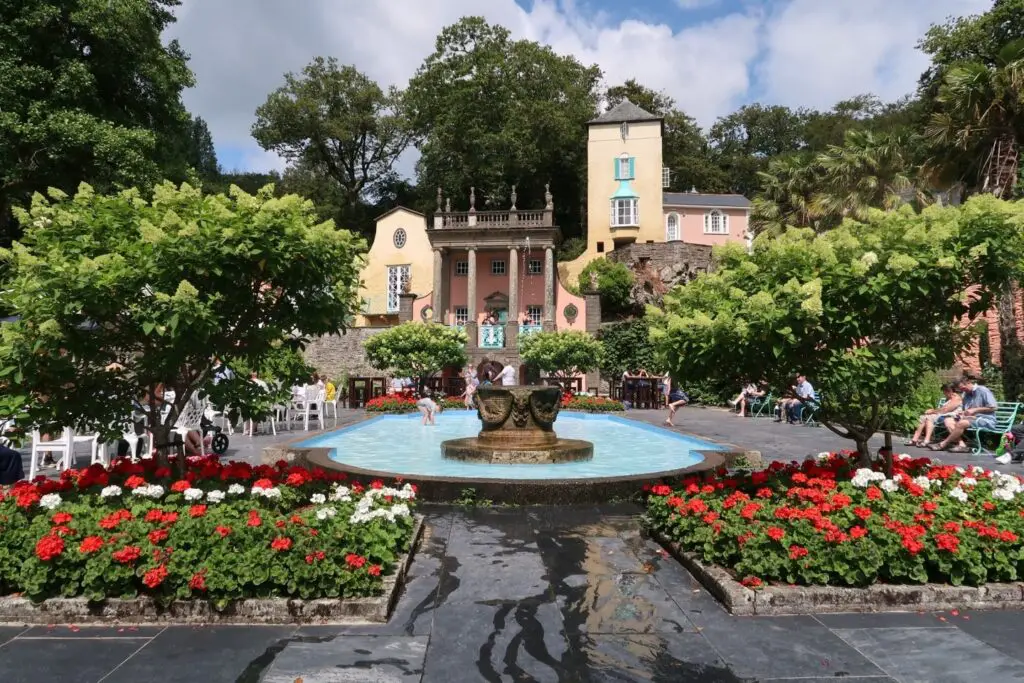 Visit Beddgelert
Another beautiful village in North Wales that I would highly recommend visiting is Beddgelert translated in Welsh means Gelert's grave – this is one of the top tourist attractions in the village. It is located near the River Colwyn and walks along the river are simply stunning. The river is super shallow that you can walk through it if you like. There were many people sunbathing around the river. This is a perfect place for a picnic. Be sure to bring enough water with you as the walk is 5 miles long!
See The Top 5 free things to see in Beddgelert Wales
Have a dip in the waterfalls on the Watkin Path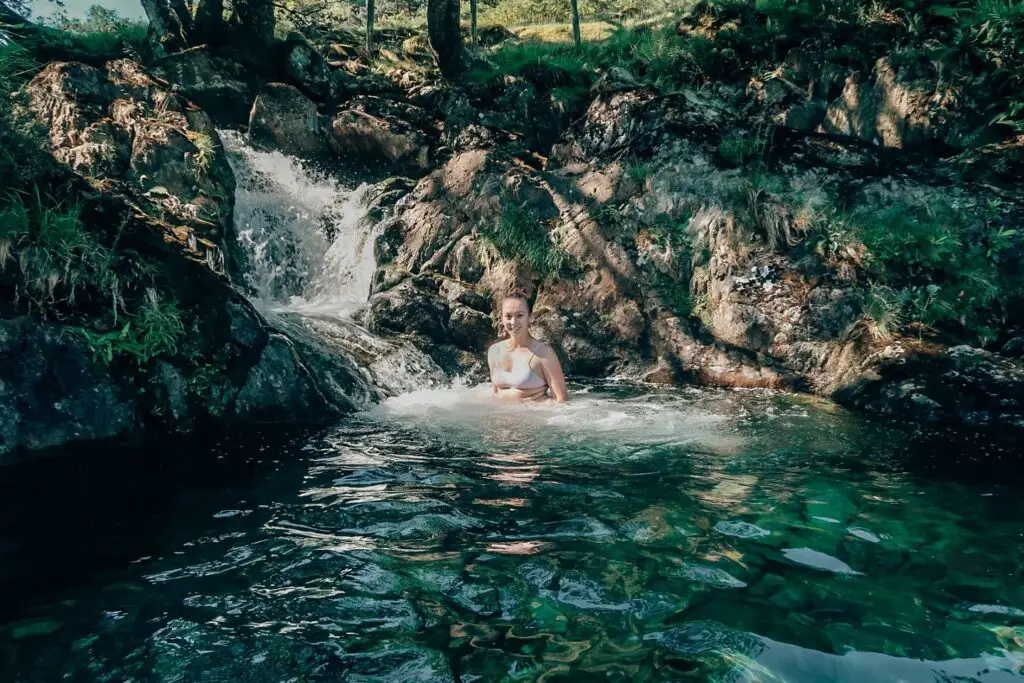 The Watkin Path is a route that leads to the summit of Snowdon – of course, you don't have to go that far. About a 20-minute walk from the start of the Watkin Path you come across some beautiful waterfalls – all of which you can bathe in. I managed to find a plunge pool further down that was not as busy as others. Make sure you bring your swimsuit and a towel, it is definitely worth the dip, especially in the summer months.
What to eat in North Wales
I stayed in a B&B and therefore got a full breakfast provided for me. This consisted of 4 courses! It was so filling that I ended up not eating lunch altogether. I was even allowed to take some food with me, this included biscuits and a bara brith (welsh cake) which I ate as a snack while climbing. As a budget traveller, I brought food with me (luxuries of having a car) and 3 out of 5 nights I ate my own dinner at the B&B.
If you do want to eat out the rule of thumb is to book or get there very early. Because of covid restrictions, many restaurants have limited seating and the queues in fast food places are super long. I wanted pizza one day and the queue was about a 40-minute wait. Restaurant's wait time was also long and some restaurants in hotels only allow their guests to eat there – something I wish I checked before going.
Fancy Fish and Chips? Hen Siop fish and chips in Betws-y-coed was so good. For Fish and small chips, I paid £7.55 and it was very filling. I went quite early at 5 pm and there were three people in the queue. It is so close to the Pont-y-Pair Bridge that I took my fish and chips and ate it along the river. When I returned the queue was all the way down the street! or perhaps you fancy Pizza? head to Hangin' Pizza super close to Betws-y-coed station. It was so busy I actually ended up in a restaurant but this was a place highly recommended to me.
Places to stay in North Wales
Hostels are another great option if you are on a budget. This is what I personally would opt for however from researching hostels in the area I have found that they are only offering private rooms which come up more expensive for solo travellers. I, therefore, ended up paying for a B&B instead. For convenience, if you want to climb Snowdon there is a hostel right outside pen-y pass you can just roll out of bed and start climbing.
There were a lot of B&Bs in the area and therefore was my second choice of accommodation. All of which were completely full most nights as the signs outside always had no vacancies. Make sure you book and don't wing it. I stayed in Betws-y-coed as it was close to everything that I wanted to do.
For Snowdon, I could get the sherpa bus and the longest drive I had was only 40 minutes so it was perfect for me. On my first day, I didn't even drive or take transport anywhere as there was so much to do in the area. I paid £55 per night for my B&B which also included breakfast – bonus! This was for a single room with an external bathroom all to myself.
There were a few hotels around but these were a much more expensive option. I would definitely look around and see what you can get – you may get lucky with a cheap room.
Thanks for reading my North Wales Travel Guide if you have any questions drop me a comment below or leave me a message on social.