I have always wanted to go skiing, it has been on my bucket list for so long and as I had no one to go with I decided to book with Contiki. I have been on a tour with Contiki before (a round trip to Europe) so I was fully aware of what to expect. Contiki has it all organised for you including a coach ride to and from London for an additional cost.
Contiki has its own hostel in Austria which is great if you are a solo traveller as you will meet so many people. If you want to go skiing and don't have anyone to go with, I'd highly recommend Contiki ski Austria. Let's take a look at the different types of ski trips depending on the length of time you want.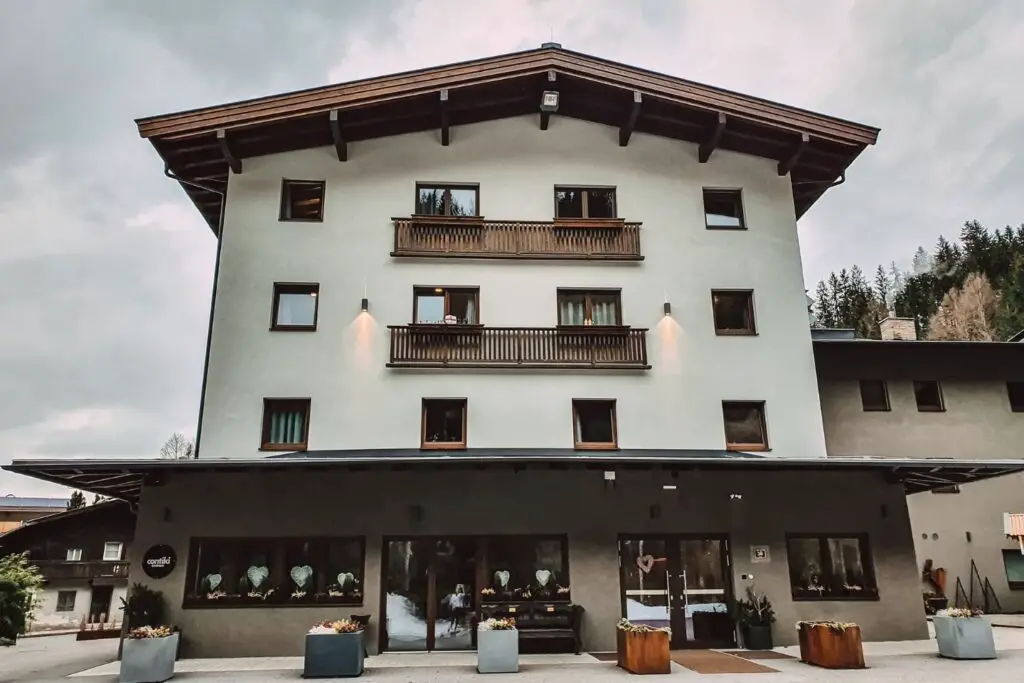 Different Types of Contiki Ski Austria Trips
Contiki Ski Austria Plus (1 Week)
This option includes a coach to and from London. I would highly recommend this option. It costs only £60 more. Yes, it is long. It took us 21 hours to get there.
All coaches have USB charge points, WiFi and Air Con.
Click here for Austria Ski One Week (with a coach from London)
Contiki Ski Austria Only (1 week)
You will have to make your own way to the hostel at Hopfgarten. This option is the same as above but without the coach ride to and from London.
Click here for Austria Ski One Week (meet us there)
Contiki Ski Austria Mini (4 days)
Monday to Thursday – make your own way there.
Click here for Mini Austria
Contiki Ski Austria Weekender (5 days)
Thursday to Monday – make your own way there.
Click here for Ski Austria Weekender
What is Included in the price for contiki ski austria?
Quad Share Room. (You can pay extra for a twin) The rooms were a decent size with an ensuite. The only disadvantage was there were no radiators or heating, however, we were told that there was floor heating.
Breakfast is included every morning. They change it up every day. We had pancakes, bacon, poached eggs, hash browns and tomatoes just to name a few. I was pleasantly surprised by how good the breakfast was.
Shuttles to town. It was only a 3-minute bus ride or a 25-minute walk. The buses left every half hour starting at 8.15 until 10.15.
Afternoon shuttles back to the hostel are from 2.30-6.30 pm and run every half an hour. The last gondola is very early like 4.30-5 pm and you don't want to miss it.
Day Trip to Salzburg. Transfers to and from Salzburg.
Ski Lessons
Whether you are new to skiing or need some more assistance, Contiki can book lessons for you. I was brand new to skiing and I was with 12 other individuals who have also never put on ski boots or skis before in their life. We all learned together so it was a great bonding session. You could do one day, three days or five days. Seeing as I was only there for a week I opted for the three-day lesson which then allowed me two days on the slopes. I have added the prices for ski and snowboarding lessons below so you have an idea on the price.
Add Ons
Paragliding: This is the best activity to do (in my opinion). It will cost you $130 for a 20-minute ride, but it was so worth it. There is also an additional cost if you want photos and videos of our experience. $25 for just photos and $29 for photos and videos. Your guide will let you view them before you purchase them so you can decide on the day. Everyone who went paragliding did get the memory card package of photos and videos plus you get to keep the memory card.
Bobsleigh: An evening trip to Innsbruck where the Olympic bobsleigh track costs $40, this includes the hour journey to and from Innsbruck. It lasts just under a minute, if you are an adrenaline junkie this is something you should consider. The ride from the bottom to the start of the bobsleigh was the strangest transportation where you get put in a truck (with the door open) and have to hold on to each other for dear life. We all found it very amusing. I later found out that this is exactly how Olympians got back to the top.
Night Ski/Toboggan at Soll. I opted for the toboggan as it looked so much fun and it did not disappoint. It was exactly like rainbow road on Mario kart, I honestly laughed so much as so many people lost control. One of my friends had to run down the mountain after his toboggan. There were two runs on the right and left and we ended up doing it three times. The cost was $30 for a night ski/toboggan this includes the lift pass and the rented toboggan. If you opted for skiing it was the same price and included the lift pass as well.
Organised by Contiki Ski Austria
Half Board Meals – $60 for 5 dinners which were 3-course meals. Everyone paid for this as it worked out at $12 for a three-course dinner. If you didn't do this you would have to make your own way into town (around a 20-minute walk) and back again. For two nights (the bobsleigh and night ski/toboggan we ate at the location)
Day trip to Salzburg. This day trip is included in the tour price. I decided not to go on the trip as I wanted to have an extra day of skiing (especially as I purchased a 6-day ski pass). However the day trip is on a Wednesday, you leave at 9 am and returned around 6 pm. Just remember to bring your passport as you have to go through Germany.
Contiki Ski Austria Additional Information and Costs
These are the exact costs that I paid in 2020 (just to give you a rough idea)
6 Day Ski Pass is $259
Ski Storage $2 for the week
Upgraded Ski Storage x 6 days €31
Equipment Hire x 6 days $65
1 item of Clothing with equipment hire x 6 Days €42
2 items of Clothing with equipment hire x 6 Days €82
Helmet Hire x 6 days $13
Ski Lessons for 1 Day €72, 2 days $155 or 5 Days $170
Snowboard lessons 1 day €63, 3 days €130 or 5 days €146
Half Board x 5 days €60
Paragliding €130
Bob Sledding €40
Tobogganing/Night Ski €30
Sights and Sound Salzburg Walking Tour €12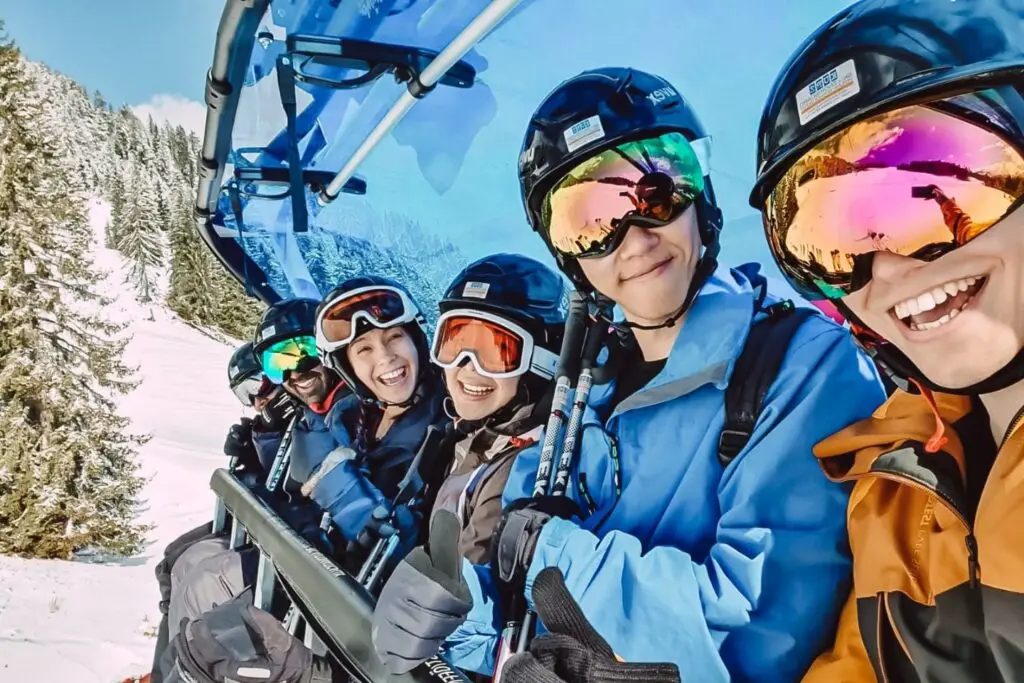 The Best Ski Holidays for Solo Travellers do Contiki Ski Austria.
Contiki is amazing for solo travellers. If you opted for the coach from London, you meet people from the onset and then you have 18-21 hours to get to know each other on the coach. Contiki organises evening activities including a half board dinner at the hostel where you can mingle with everyone. As there are different lengths of ski trips with Contiki you'll meet people who have stayed the previous week as well as the weekenders. An average dorm room is 4 people (however you can upgrade to a twin room if you wish). So it is great to get to know people. I hardly spent anytime alone as there was always someone to go skiing with.
This is my favourite Contiki trip as it was so action-packed with so many activities to choose from. Most evenings there was always something happening. My favourite was the quiz night on the first night. This was a great ice breaker as you got to really bond with other people and who doesn't love a quiz right?
If you are looking to book click here (this is the trip that I did).