Travel Guide to Copenhagen for Budget Travellers
Whether you are going solo, as a couple or in a group, Copenhagen is the perfect city for you. It is so safe and the best part is that the majority of people speak English. The Danes are super friendly and Denmark is considered one of the happiest countries in the world. Although Denmark is considered an expensive country, I am going to show you how you can travel to Denmark on a budget.
Here is an itinerary for 3 days in Copenhagen for budget travellers.
Travel Guide to Copenhagen Quick Information
Flying: I flew from London Stansted (STN) to Copenhagen at the cost of £12.99 in the middle of May 2022. The flight was 1hr 40mins long.
Money: Denmark uses Danish Krona (DKK), not euros.
Don't worry about taking any cash out. I was in Copenhagen for a week and I used Apple pay everywhere! I didn't use my physical bank card once. It was so easy just make sure that you are using a card that has no foreign exchange fee. For more help and the cards that I use see Most Useful Travel Cards For Budget Travellers UK
Phone SIM: If you are from the UK make sure that your phone is unlocked AND that your phone contract has EU roaming included. If you have both of these you can use your phone as if you are at home at no additional cost.
Restrictions: Be sure to check current restrictions when travelling to Denmark. These can change suddenly. Make sure you have the correct documentation. If you are from the UK click here for current restrictions
Transportation: Transport around the city and to/from the airport was really easy. I managed to get the train from Kastrup (Copenhagen Airport) to Copenhagen Central Station in 13 minutes at the cost of 36DKK (approx £4.10) for a single journey. There is also a metro (which doesn't have a driver which I thought was awesome) which is also convenient to take. This works out at the same price as above.
My favourite way to see Copenhagen was by bike. I was recommended an app "Donkey Republic" (available on IOS and Android) where you can buy 24hr, 48hr, 72 hr or weekly passes. You can also pay as you ride if you are only going to be cycling for a short period of time. This was a fantastic way to see the city (and get some exercise)
Cycling is very easy in Copenhagen, you will find bikes everywhere. Just remember that in Denmark they drive on the right-hand side of the road. If you are worried I would try it for an hour and see how you feel. To navigate on a bike there is a convenient phone stand on the front which secures your phone.
Emergency Phone Numbers:
Universal European Emergency Number: (+45) 112
Injuries for sudden illness: (+45) 1813
Police: (+45) 114 (non-emergency)
Weather: January and February are the coldest months and can get down to -1. The hottest months are July and August with temperatures rising to 22 degrees. Also, note that the summer months will be the busiest.
ATM: I personally didn't need to take any money out when travelling to Copenhagen. I never actually used my card once (I used contactless everywhere.) If you do need an ATM make sure you head to a bank – these usually have the cheapest rate. NB: always make sure you take money out WITHOUT conversion and always pay in the local currency.
Here are some of the banks in Denmark:
Arbejdernes Landsbank.
Danske Bank.
Handelsbanken.
Nordea Bank Danmark.
Nykredit.
Must-have apps for budget travellers
XE – a currency conversion app so you know exactly how much things cost in your local currency (never get ripped off again)
TravelSpend – This handy app allows you to budget by inputing all your spending which then categories it ie flights, accomodation, restaurants etc. It shows you your daily spend as well as overall spend.
TripIt – This app syncs with your email and inputs all your actvities into the app. It shows your all your flights, accomodation and excursions in a handy timeline. Best feature is that it does it all for you (although you can input it yourself as well.)
Google Translate – Google translate has a handy feature that it can translate via photo. This is so helpful when reading menus so you know exactly what you are eating.
Airline App – I always recommend downloading the airline app with whom you are flying with. This allows you to check in, upload relevant documents and give you up to date information on your flight.
Donkey Republic – If you want to try cycling around Copenhagen, I found Donkey Republic to be the cheapest and easiest way to rent a bicycle.
Travel Guide to Copenhagen Trip Planning
Best time to go to Copenhagen
May, June or September. I went in May which was perfect for me. Not too crowded, nice temperature (I was in t-shirts most days) and not too bad weather. I mainly chose May for the cost. I managed to get £12.99 flights one way to Copenhagen.
Make sure you check any seasonal acitivites you would like to do in Copenhagen. For example Tivoli Gardens is only open from April-September (they do have other events for halloween and chirstmas but not everything in there is open).
Do note that in the winter daylight hours are short (I have been told it can get dark around 2pm). It can also get very cold (think just below freezing). This is always something to consider when deciding when to go.
If you do decide to go in the summer, do make sure you book in advance. Accommodation is usually full (as it is peak times) and it can be very busy in the city. I personally try to avoid the summer months if I can for this reason.
Rough Budget for the Budget Traveller
Food
Buy food from supermarkets and cook yourself (up to £10) be sure to check that your accomodation has kitchen facilities.
Head to food markets (£5-20 per meal)
Transport
Bike Hire for the week: £28

Public Transport to the Airport: £8.20 (2 x singles of £4.10)
I would have a little bit extra for excursions however most things I saw in Copenhagen were completely free of charge.
What to pack for travelling to Copenhagen
The weather can be a bit crazy in Copenhagen. One day it just chucked it down in random intervals.
I recommend bringing:
Backpack

(super handy when you are cycling) This particular one is anti theft.

Reusable Water bottle

(Danish water is super fresh so you can drink from the tap).
Clothing that you can cycle in.
English Tea (this is an odd one but Danes just don't do tea like us Brits do. Luckily I had some emergency tea bags at hand)
Comfortable trainers for cycling/walking
Best things to do in Copenhagen, Denmark.
I did both the Tivoli Gardens (with unlimited rides) and Nyhavn canal cruise all through the links above. If you want to do more than two rides at Tivoli Gardens then the unlimited ticket is worth it (as it costs around £9 to go on each ride separately). Both the Tivoli Gardens and Nyhavn Canal Cruise were completely worth it in my opinion.
What to eat in Copenhagen
Budget Supermarkets in Copenhagen
Look for Lidl or Rema 1000. I shopped at both. Although Lidl you know what you are getting I found Rema 1000 cheaper. I bought my meals and snacks for the day here. They were also very close to my accommodation which was very handy.
The Danish Pastries
These are delicious in every way and if you love a bakery this is for you. I did pay nearly £4 for mine but it was delicious so I have no regrets. You can find these in all danish bakeries. If a Danish pastry is not for you, their bakery has other options such as pain du Chocolat or croissants. They are so much bigger and tastier than the UK. A great breakfast option for sure.
Torvallenene Food Market
This famous food market is a must if you are in a group of fussy eaters. There is so much here you'll be spoilt for choice. I ended up having oysters and sushi, both were delicious. Oysters were around £3-4 for one and sushi was a strip for £13. If you prefer a sit-down meal there are also restaurants in proximity.
I thought the food markets would be relatively cheap, but they aren't as you can see from the prices. If you are on a particularly tight budget I recommend going to the supermarket and cooking (that's if you have a kitchen in your hostel or Air BnB).
Reffen Food Market
Another food market you can head to is Reffen. This one is a little further out but totally worth it if you ask me. Reffen was such a quirky place. I ended up having a chicken wrap and a strawberry smoothie. Chicken Wrap was £6 and the smoothie was £5.
As you can probably tell from this section, food in Copenhagen isn't cheap by any means. What I love about food markets is the variety you get. If you are going solo to Copenhagen food markets are great as you don't get that awkwardness of sitting in a restaurant by yourself.
Places to stay in Copenhagen
I stayed in two locations whilst in Copenhagen
Budget – The Next House Copenhagen £
Mid Budget – Cityhub Copenhagen ££
The Next House Copenhagen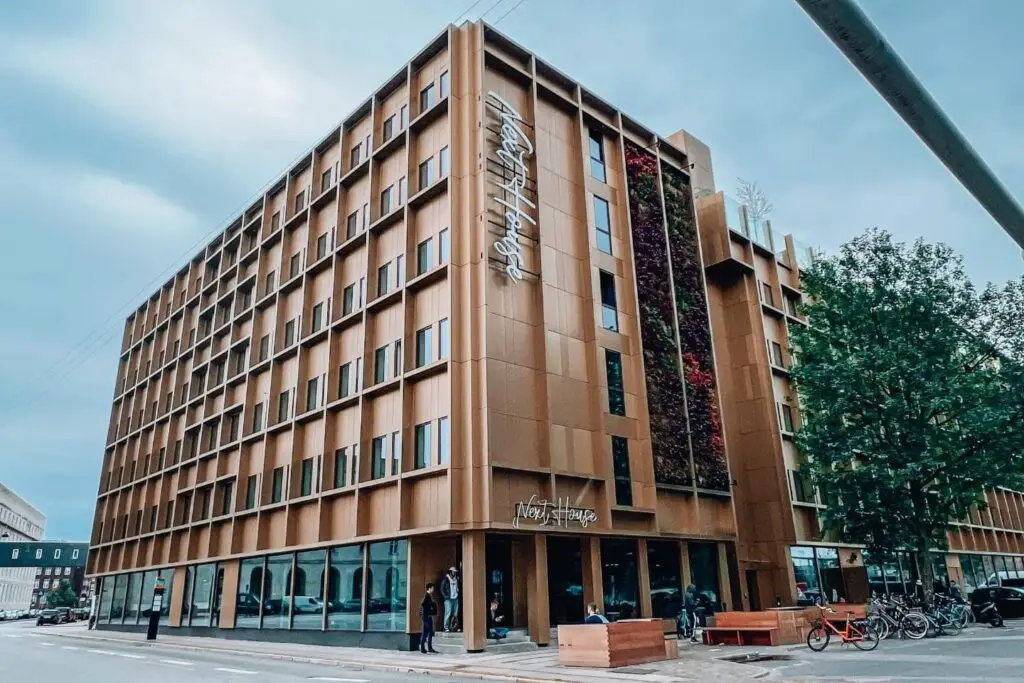 AD – Press Trip. The next house Copenhagen is a luxury hostel in the heart of Copenhagen and close to a lot of amenities. This is unlike any hostel you have ever stayed in. It has an arena, a gym, a cinema, a yoga room and much more. Dorm rooms are either 4 or 6 beds with a pod-like feel. All dorm rooms come with an ensuite.
There is an eatery located in the hostel which provides breakfast and a pizza buffet at dinner (both at an additional cost). There are loads of events in the hostel as well as a scooter tour of the city. If you are looking for a social place to stay this is it.
For more information about staying at the next house Copenhagen check out my review of the luxury hostel here.
Cityhub Copenhagen
I am always looking for unique places to stay while travelling and sleeping in a hub was something I always wanted to do. Check-in is all done via a screen and I was given a choice of a top or bottom hub (I went for the top). All hubs are on one level which makes it completely assessable to everyone.
To get into your hub you get a wristband and scan it to enter. This wristband also allows you to buy drinks at the bar and you get to pour your own (which is so cool). You can pay for this when you check out.
Cityhub is cheaper than your traditional hotel as bathrooms are shared. There is a sauna and cold shower which are included and you can use them at your leisure. The room numbers were in the hundreds and went to 300 something. I believe there were three lots of shared bathrooms and saunas located in Cityhub. I was lucky and had the sauna all to myself when I went.
Another cool thing to mention about Cityhub is the hub itself. You can download the Cityhub app where you can change the lighting to your desired taste and even play music. There was even a place on the wall where you can place your phone and take awesome photos.
The disadvantages of staying at Cityhub were the lack of power. There was only ONE power outlet. There were USB ports but I prefer USB C (for fast charging) if you know you know. There was a place for fast charging but it didn't work for me. Also, there is no way to change the temperature of the room. I was either really hot or really cold. It would have been nice to have this option as a bonus if it was done via the app too.
Places to visit in Copenhagen
Tivoli Gardens
If you have an afternoon spare, I'd highly recommend a day in Tivoli Gardens. There are two ticket options either just admission or admission with rides. What I loved about Tivoli Gardens was there were hardly any queues on the rides. I did go around 4 pm in May so that may be a factor but I managed to go on all the rides I wanted (some of them I went twice.) I booked my ticket from the above link (convenient as you can pay in your local currency.)
The Little Mermiad
This is probably the most touristy thing to do whilst in Copenhagen – see the Little Mermaid statue. Do note that this statue is so small and it is incredibly busy in the area (due to its popularity). It is a little bit far out so I would recommend biking it there. If you want a photo with her I advise going at off-peak times such as the early morning when there won't be so many people.
Nyhavn
Another must-see place in Copenhagen is the beautiful harbour of Nyhavn. Their houses are so pretty. If you have an hour spare I would recommend a canal tour which is a round trip from Nyhavn. I booked this excursion through GetYourGuide where you get a QR code to scan. What I love about GetYourGuide is that you can pay in pounds and prebook it so you don't need to worry about it. This ticket doesn't have a specific time slot and is valid all day.
If you are heading to Copenhagen I hope you have the most wonderful time and I hope you have enjoyed this travel guide.