Have you ever wanted to go wild swimming at the Watkins Path Waterfall? I was recommended by a friend to go wild swimming here and it did not disappoint. This place is for everyone whether you prefer to relax by the natural pools, dip your feet it or go for a swim Watkins Path waterfall has everything you need. Are you staying in North Wales and want to know other things to do? Head to my North Wales Travel Guide for more budget ideas.
Watkin Path is named after Sir Edward Watkin and is considered one of the toughest routes to get to the Snowdon summit. Don't worry, the waterfall and wild swimming on the Watkins path is very close to the start of the trail.
Wild Swimming Watkins Path Waterfall
I have heard a lot about the plunge pools and wild swimming at Watkins Path waterfall so I had to try it. These waterfalls are perfect for families, couples or friends who wish to go swimming and relax along the river. In places, the water is shallow that you can dip your feet in. If you are more adventurous there are plunge pools that are deeper so you can jump in. This makes it a perfect day out for everyone!
Be sure to bring a picnic as there is no food en route.
How do I get to Watkins Path Waterfall?
The best way to get there is to drive to Pont Bethania Car Park. (see map below) This cost £3 for 4 hours or £6 all day. I opted for the 4 hours which I found plenty of time to swim and relax by the pools. Note: This is a small car park and is always full. You will find cars are parked on the roadside. Get there early to grab a limited space.
If you don't have a car there is a sherpa bus that takes you straight to the start of the trail. Hop on the S4 sherpa bus from Beddgelert to Pen-y-pass and get off at Nant Gwynant. I found the Sherpa buses don't run very frequently – just something to be aware of. Click here to plan your journey.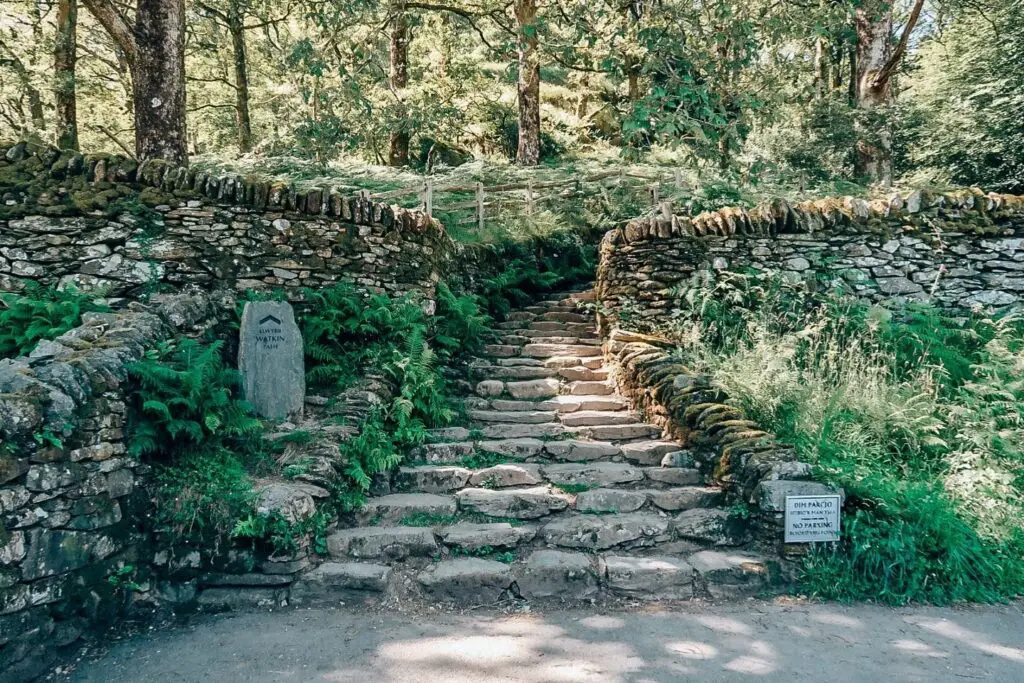 The start of the Watkins Path is a short walk away, simply cross the road and follow the signs from Pont Bethania car park. It will take you approx 15-20 minutes to get to the first waterfall however there are many so if it is busy keep walking.
Watkins Path Waterfall Map
What to bring to the Snowdonia Waterfalls?
A towel, swimsuit and comfortable sturdy footwear. Although the path to the waterfalls isn't strenuous, it is uneven. Don't forget the sunscreen! If you are planning a full day out, bring food and water with you as there is nothing there. There are food trucks at the start of the trail however it was mainly snacks such as ice cream or soda.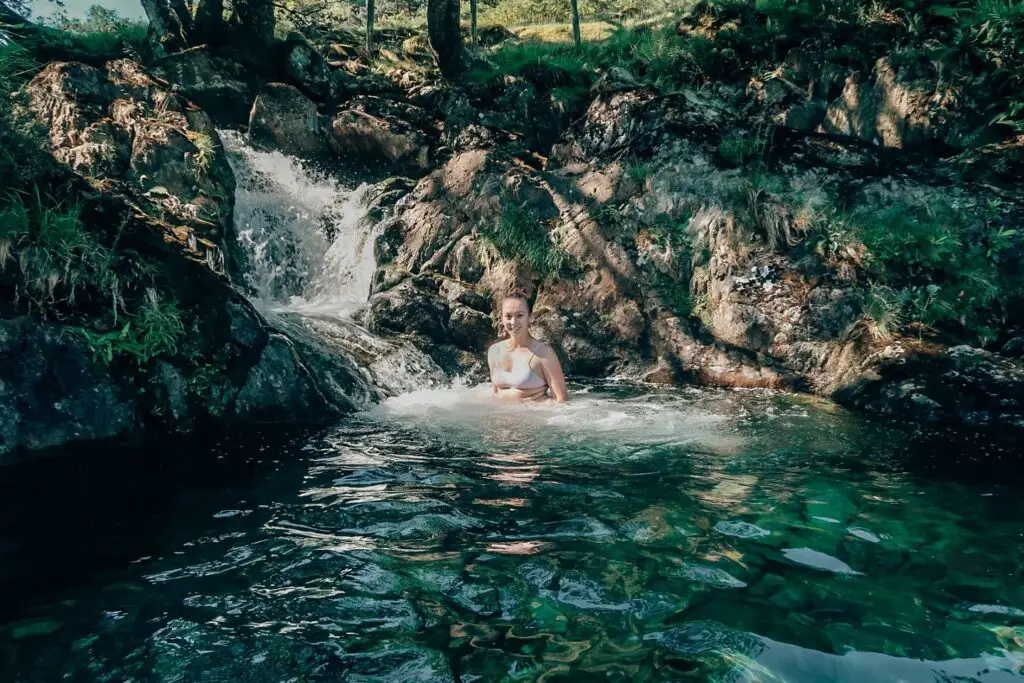 Watkins Path Snowdon
The Watkins Path is also a trail that leads to Mount Snowdon, the highest point of Wales. It is not a popular route however the views are incredible as you will begin your trek lower than the popular pen-y-pass (which is the main trailhead for most people hiking Snowdon). Although I have not completed this hike to Snowdon, I have heard that it is very steep in places. I, therefore, would not recommend it to novice walkers or young children for this reason.
It is a very challenging route to Snowdon and is 8 miles/13km in distance with a 1015M descent let's say it's not for the faint-hearted. If you are looking to climb Snowdon the Llanberis Path is the easiest. Being the easiest it is also the most popular path to Snowdon.
I opted to climb Crib Goch Trail to get to the Snowdon summit For you fellow daredevils this climb was incredible and I would highly recommend it (if you don't have a fear of heights). It is considered a scramble and there is more than one way up to the ridge.
Climbing the formidable Crib Goch for sensational views of Snowdon
FAQ