What is Crib Goch Snowdon?
Crib Goch Snowdon is the hardest route up to the summit of Mount Snowdon. Crib Goch is an exposed ridge and is considered a grade 1 scramble. If you don't like heights this is not the route for you, this climb is not for the faint-hearted. Having said that if you love heights and want a challenge, the views from Crib Goch Snowdon are sensational.
Start & Finish: Pen y pass

Distance: 11.5km

Elevation: 923 m
Time: 5 Hours (this will vary)

Facilities: Toilets at the start and finish at Pen y Pass. Cafe at the summit (this was closed when I went)
What path is Crib Goch Snowdon on?
It starts from Pen Y Pass along the PYG track and then you turn right at Bwlch Y Moch. This is not an obvious turn off point and the signpost with "Crib Goch" on a marker post cannot be seen from the PYG track.
A good indicator is when you see the lake on the left (this is also where a lot of people start taking photos) you can see a stile straight ahead, there is a small path to your right as you turn the corner to see the lake. Start going up there and you will see the marker post straight ahead with "Crib Goch" on it.
How dangerous is Crib Goch Snowdon?
If you have a fear of heights I would avoid this route at all costs. Llanberis Mountain Rescue states that "the route up Crib Goch and along the ridge is extremely dangerous and should not be attempted by novice walkers.'"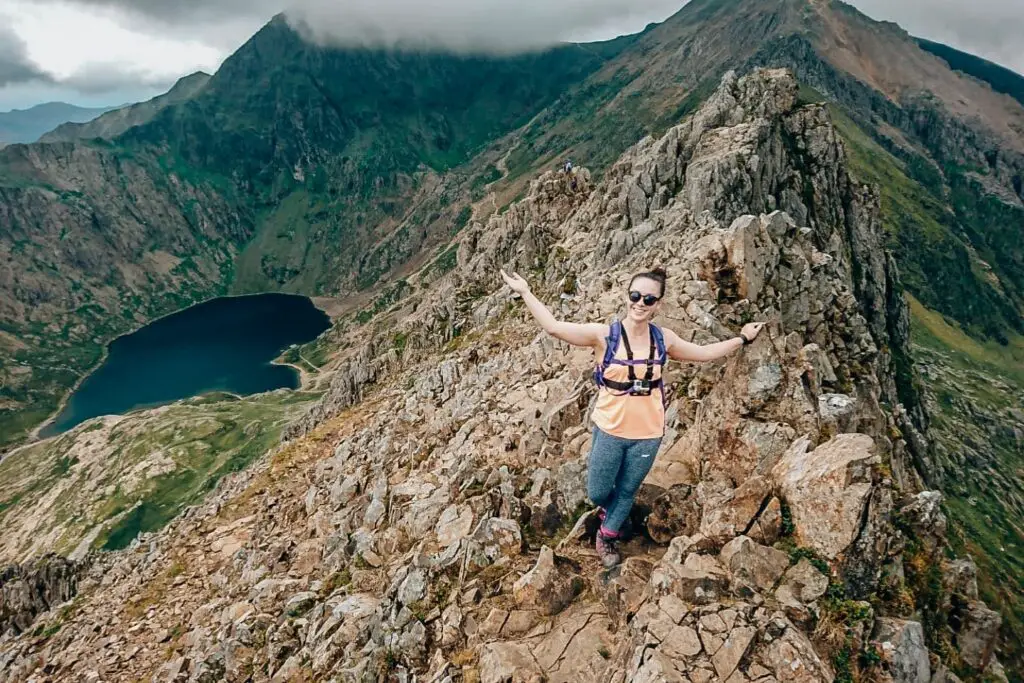 Does Crib Goch lead to Snowdon summit?
Yes, it does. Crib Goch is considered the toughest route to the Snowdon summit. Be aware that Mount Snowdon is a busy mountain. The queue to the summit was around a 45-minute wait when I went in July 2021. Crib Goch is the only path that also leads to the second-highest mountain in Wales, Carnedd Ugain. (This I did not have to queue for as I was the only one there).
Crib Goch Snowdon Parking
There is a car park at the start and finish at Pen Y Pass car park however, it is pretty pricey (see below). There are laybys further down but they are very limited. You would also have to pay for these and walk further to get to Pen Y Pass. If you do wish to park at Pen Y Pass you would need to pre-book your parking ahead of time.
Standard rates for Pen Y Pass Car Park:  
8 hrs – £18
8-12hrs – £25
12-24hrs – £40
Opening hours: 24 hrs. Click here to pre-book your space.
How to get to Crib Goch Snowdon?
I suggest getting the sherpa bus to and from Snowdon. I paid for a return from Betws y coed to Mount Snowdon for £5. It took around 25 minutes and the drive was stunning. Click here for more info on the Sherpa bus.
Note: I wanted to get the first bus which was at 9.10 am however it was full when it came to my stop (full due to covid regulations). I, therefore, had to wait an hour for the next bus as they do not come frequently. This was a big blow for me as the last bus is at 6 pm and it was my first time climbing. I did make it but I did feel a bit rushed to get up and down the mountain.
How long to climb Snowdon via Crib Goch?
I did it in 5 hours with a few mini breaks in between. Beware of queues once you get onto the ridge. Take into account that there are many routes through Crib Goch – some are longer than others.
Things to know before climbing Crib Goch Snowdon
1) Check the weather forecast before you set off. Mountain conditions can change quickly so be prepared. For climbing Snowdon I always check the latest live readings and I also check the weather forecast here for the detailed weather forecasts of the area.
2) Wear walking boots/comfortable trainers and suitable clothing for that season. Wear good ankle supporting boots to aid you along the ridge. Also bring waterproofs, a windproof jacket and over the top waterproof trousers that will keep you dry should it decided to pour with rain. If you are climbing in winter thermal layers and gloves and a hat should be in your bag – remember it will be colder the closer to the summit you are.
3) Plan your route carefully before you go. There are so many routes up Snowdon, but if you choose Crib Goch as your chosen route, you have a map handy to guide you.
4) Don't stray from your route. Having made this mistake in the pa, I have learnt not to follow people off track, thinking that they know where they are going. Sometimes they do however it may be a more dangerous route. I bought a Snowdon map and guide to help me across Crib Goch.
5) Bring plenty of food and water. Invest in a hydration pack that has a convenient tube attached to your backpack strap. This device is so handy that you can drink and walk at the time (perhaps not when walking on the ridge, though) so you don't have to keep reaching for your bag whenever you need water. Climbing Snowdon can be hard so you need to keep your energy levels up.
6) Carry the right equipment. Bring a map, compass, torch, whistle and a small first aid kit (I mainly just have a tonne of plasters in mine) and of course your mobile. Do note that I had no signal when climbing Crib Goch so do not rely on this alone. Take an extra layer of clothes due to the plummeting temperature at the summit. Take sunscreen and apply sparingly as there is little shade on the mountain.
7) Tell someone where you are and what time you aim to return by letting my B&B hosts know I was climbing Snowdon and what time I aim to head back home. If your plans do change be sure to let them know.
Related Post: Recommended Informative Backpacking Gear List you need for Beginner