I was first introduced to hostels back in 2016 when I did a road trip around the USA. I had no idea what a hostel was or what to expect. I have had so many questions about hostels and decided to put all my experience in one place so you have tips for staying in hostels for backpackers. I cover a lot of information that I wish I had known all those years ago. Hostels are wonderful for backpackers as it is so easy to meet fellow travellers. They are also the best place to stay if you are on a budget. So there you have it here are my top tips for staying in hostels.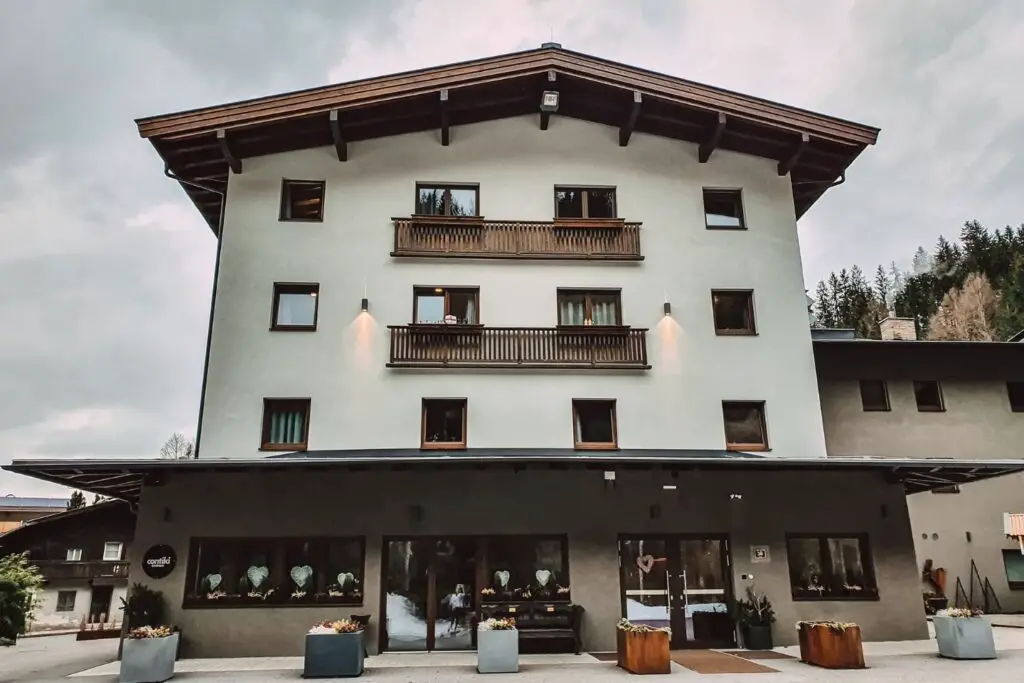 Tips for Staying In Hostels
What Is A Hostel?
Hostels are low-budget/basic forms of accommodation. They consist of multiple bunk beds per room (from 4 to 22 people) and some are triple bunk beds. Most of them have separate bathrooms (although some have en suite), a kitchen/dining area, a common room, laundry facilities and WiFi. There are also female/male dorms as well as mixed.
Top Tips for staying in Hostels: Each hostel is different so if you are looking for certain facilities check before you book. Added extras are luggage storage, laundry facilities, toiletries and a towel.
What Is The Difference Between A Hotel And A Hostel?
Hostels have fewer amenities than hotels. The bathrooms are shared and communal. Do note that they may not be an en suite. You have to share your dorm room with 4-22 people! and there is basically no privacy. There is no TV in your room, however, there may be one in the common room. Some hostels do offer private rooms which are exactly like a hotel for more money than the dorms, but it is sometimes cheaper than booking a hotel.
Top tips for staying in hostels: If you are on a budget and are a deep sleeper I would at least try staying in a hostel. I understand they aren't for everyone but it's always worth a try, right?
Who Are Hostels For?
Anyone and everyone! I have seen so many different ethnicities, ages, and groups. You name it I have seen everyone, it is so diverse! I find them particularly great for solo travellers. It is so easy to meet other solo travellers as backpackers are very like-minded, everyone is in the same position as you. If you are nervous I am sure you will find someone equally as nervous as you.
Top tips for staying in hostels: Make use of the activities in the hostels. I have found a lot of them have many social events such as walking tours and bar crawls which are completely free to join and it is a great place to meet new friends.
Are Hostels Safe For Solo Backpackers?
9/10 I have stayed in hostels as a solo traveller and I have had no problems. I am always extra cautious being a solo female backpacker and being in a country you know very little about. The truth is that many backpackers will be feeling exactly the same as you.
Top tips for staying in hostels: always write the address of where you are staying down on paper AND keep it in your notes. This is so you can get a taxi home on a night out alright even though your phone may have died.
How Do Hostels Work? The Check-in Process
Like a hotel, you have to check-in. Check-in times will vary but usually around 3 pm I have found is the norm. If you arrive early you can leave your bag at the hostel. If you arrive after this time, you can check in when you arrive and head straight to your dorm room. Bed linen and pillows are included (sometimes they do include a blanket too, if one isn't provided you can always ask for one). Most hostels however do charge for towels so make sure you bring your own. Some also have breakfast included as well (be sure to check this)
Top tips for staying in hostels: Some hostels do charge you to keep your luggage with them pre-check in/check-out. You can check the hostel's website for this information.
Where Can I book? How Do I Decide Which Hostel I Would Like To Stay In?
I mainly use hostelworld to book hostels. To find the perfect hostel where I want to stay, I look into where the hostel is located and how close it is to public transport (so it is accessible to the city). I then look at the reviews and if it is a party hostel or not (I quite like a peaceful night's sleep). Then I weigh up the cost of the bed with how many people are in the dorm room. I always opt for fewer people in the room as I find it less disturbing. Some do prefer a female-only dorm, but for me this isn't really an issue.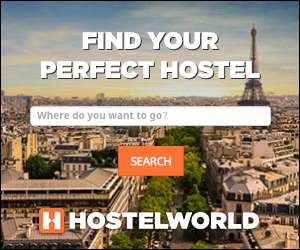 Tips for staying in Hostels: Room Types
Top tips for staying in hostels: If you prefer a bottom bunk I'd advise getting to your hostel when check-in opens. This ensures you have an early preference of which bed you would like.
Female or Male/Mixed Dorms
Between 4-22 people in each dorm room
Only some dorms will have an ensuite however these are usually more expensive
Breakfast isn't always included – it is best to check before you book
Top tips for staying in hostels: do your research on what dorm rooms you want to stay in depending on your needs and personality. For example, my ideal dorm room would be a 4-bed female dorm, why? I find that females are less likely to snore and I am a really light sleeper. Also, my logic is the fewer people there are in a room the lesser disturbance you will get. Of course the fewer people there are in the room the more money it will cost but you can't have it all.
Tips for staying in Hostels: Different Types of Hostels
You may not know that there are in fact different types of hostels available:
Budget hostels
Budget hostels are the most basic hostels you can find.
Luxury/Boutique hostels
These hostels are a lot nicer than budget hostels but also have a higher price tag attached to them. I have found some of these to be quirky and different from a lot of hostels I would stay in. I'll let you decide if it is worth it but I'd defiantly have a look for sure.
Party Hostels
If you are looking to make friends and drink, party hostels may be for you! A lot of party hostels have a bar inside the hostel (very handy) and feature a lot of drinking. I have found party hostels focus a lot on being social and may included happy hours and drinking games up to the early hours.
Capsule/Pod Hostels
Capsule hostels are very different from standard hostels as you are sleeping in a capsule. If you suffer from claustrophobia this definitely will not be for you however these are cool in their own right. If you are just looking for something different or just want a bed for the night, capsule hostels are perfect. I have found them to be small however more private than your standard hostel.
Female Only Hostels
If you are concerned about safety I would recommend looking for female-only hostels. I have found a sense of camaraderie when staying in female-only hostels and it is so nice to find other female solo backpackers from all over the world. I wish there were more female-only hostels and I wish there were more of them.
Tips for staying in hostels: If you are travelling for the first time alone female only hostels are a perfect way to introduce yourself to hostels.
Adventure Hostels
Whether you are looking for a surfing or yoga stay adventure hostels are awesome. What I love about these types of hostels is that everyone loves adventure. Let's face it you aren't going to book a surf hostel and not like surfing are you?
Co-Living Hostels
Being a digital nomad I love these hostels. Most of them have a desk in your room or have a huge communal area for guests to co-work together. If you are a remote worker co-living hostels are perfect for you.
Top tips for staying in hostels: Use the communal working areas to make friends and know that you are never alone while travelling.
Different Types Of Bookings
(with Hostelworld – your first place to look when booking hostels)
Do note that are two different types of bookings.
1) That is non-refundable (they usually take the money out fairly swiftly)
2) The hostel offers free cancellation so you can reserve your bed for the night up until 3 days before your stay (then they charge you). This is great if you are unsure but don't want to leave it until the last minute. This option is also usually more expensive due to its flexibility.
Top tips for staying in hostels: Try booking in advance WITH free cancellation. Usually, it is cheaper to buy in advance and with free cancellation, you don't need to worry if you do change your mind.
How Long Can You Stay In Hostels?
Usually for a very short period of time. It depends on the hostel as some are a week, some two weeks and others a month. I have met someone who lives in a hostel full-time. He said it was cheaper than paying rent and he gets breakfast included every single morning – not bad going right?
What Is There In The Dorm Room?
Hostels always include a bed with a pillow, bed linen and possibly a blanket, lockers and a bathroom (if you have an en suite dorm). I would highly advise keeping your valuables locked away in the given lockers with a padlock. Make sure you bring a lock with you that has a flexible loop so that it will fit most hostel lockers.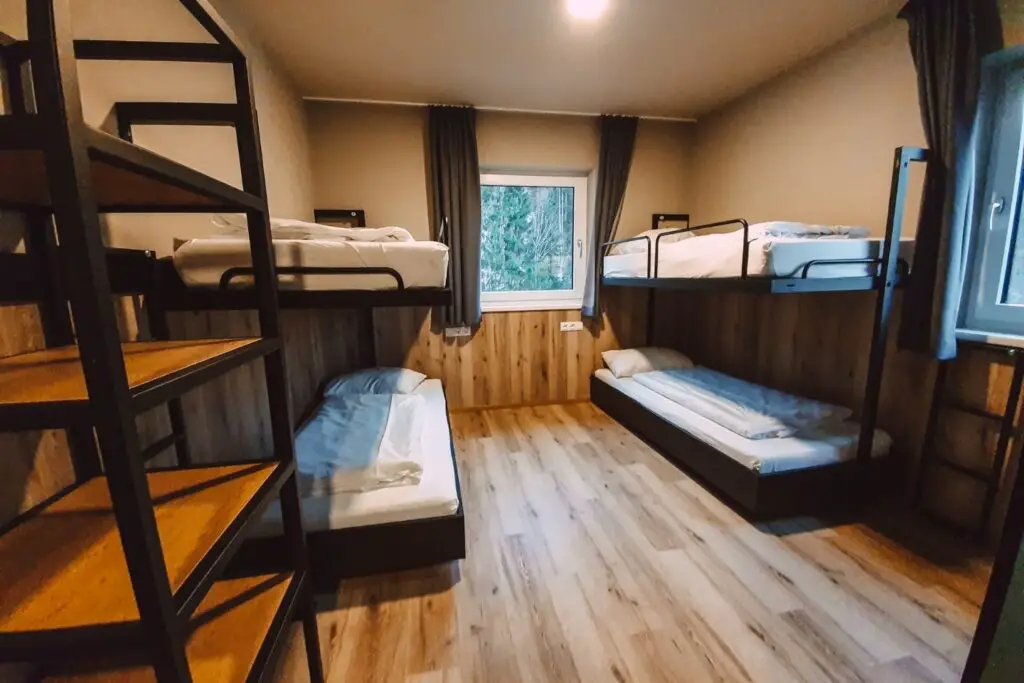 What To Wear To Sleep In A Hostel?
I would advise wearing pyjamas. Please be aware that there are others in the room if you do sleep naked. There have been many instances where people have rolled over and are butt naked, I definitely have seen more than I should off.
What Do You Need To Stay In Hostels?
Honestly, you don't need a lot. The added extras would be an Eye Mask, Ear Plugs, a travel adapter, a microfibre towel, flip flops (for the showers) and a lock.
What Is it Like To Stay In Hostels?
Having to share a room with around 4-22 individuals can be disturbing, however, I enjoy hostels for the social element. Many have events where you meet people from all around the world. I have made such good friends by staying in hostels worldwide. The common area is also great if you need to work and/or socialise so you get the best of both worlds. Sometimes there is a queue for the shower but if I am paying under £10 for my bed, I don't mind so much.
Top Tips for staying in hostels: Try and use facilities in off-peak times ie cooking/using the shower. This gives you a more relaxed atmosphere as you don't have to rush.
Tips for staying in hostels for the first time
My top tips for staying in hostels for the first time are:
Check the location of your hostel ideally you would choose somewhere quite central and not too far from public transport.
Be considerate to your fellow dorm mates – if you come home in the early hours try not to make so much noise believe me your roommates will not thank you for it. This also goes for getting up early too.
Top tips for staying in hostels: A lot of hostels have kitchens you can use but make sure you label all your food! When I say people will eat they will (and they sometimes do this when your food IS labelled.
If you need anything – ask! don't be afraid to ask your new friends for help, if they don't have what you're looking for the hostel staff are usually very friendly.
Try and make friends with your dorm mates by finding common ground. I once shared a connection with a girl who had a massive pink suitcase and was bonding over our love for pink!
Research what events are happening in the city or at the hostel. I'm sure there will be something that you will enjoy.
Backpack or suitcase – depends on your trip and what kind of person you are. I have travelled with both. I have found that backpacks are great if you are moving a lot and great for stairs however suitcases have that bonus of wheels.
Top tips for staying in hostels: Try and pack as light as possible. What I have found is that dorm rooms are relatively small and there's not a lot of space. If you can you can put your backpack/suitcase under the bunks for more space.
Benefits Of Staying In A Hostel
Hostels are the cheapest accommodation for solo backpackers
For the social element, most hostels have events such as a free walking tour or a free breakfast included. This is an awesome way to meet new friends.
Hostel Essentials Things To Have In Your Hostel Room
Long Cable Phone Wire

– hostel plugs sometimes aren't that close to your bed.
Flip Flops – I usually wear flip flops in the showers (just to be safe) I use Havianas that double up as my everyday shoes – so comfortable.
Toiletries – unlike hotels, hostels usually don't provide any toiletries (although I did find one with body wash which was a pleasant change)
Additional Charges from Hostels to know before you book
Extra to store your Luggage – some hostels charge you to store your luggage
Breakfast – some booking sites don't offer free breakfasts as part of your stay. Be sure to check if it is cheaper to purchase when you are there or when you book
Towels – usually hostels don't provide towels.
There may be a cancellation fee – check if your booking has a non-refundable or free cancellation to avoid losing your money.
If you do require an early check-in/late check-out they may be able to do this for you for a small fee (I have found they don't really advertise this at all but it is definitely an option)
Tips for staying in hostels for the first time
Many hostels charge for towels and locks so make sure you bring your own.
Many hostels have events such as free walking tours or bar crawls. These events are fabulous as it is a great way to meet friends. I would take full advantage of this.
Hostels usually give out free maps at reception, I would highly recommend picking one up.
There is no age/gender matching system in hostels (unless you book yourself in a male/female dorm) Just something to be aware of.
Wifi is always free (I have never been in a hostel that doesn't offer free wifi, just make sure you ask for the password when you check in.)
Some hostels do not have lifts! If you're a backpacker you're fine but you don't particularly want to lug your suitcases up 6 floors of stairs (FYI this did, in fact, happen to me so research beforehand.)
Bring a padlock to keep your valuables secure. If you do forget you can buy one in some hostels although I have found they are a lot more money.
Book a hostel with 24-hour reception – this is super helpful and peace of mind if you are arriving late at night
Don't forget to buy travel insurance – when I was younger I would wing it, but never again. The costs are high and I would never risk it.
Bring some local currency – usually, the laundry facilities are coins
I hope you enjoy this post on my tips for staying in hostels for backpackers. Please feel free to comment below if you have any additional questions or think there is something I have missed.