This year I wanted to learn how to ski and thought what better way to learn in a group with fellow newbies. Contiki is a tour provider that had the perfect package for me. I initially wanted to go solo as I couldn't find anyone to go with, however, I mentioned it to a friend and she ended up coming with me. I decided to get the coach to and from London; however, you make your own way there. There is also weekend and one to two weeks trips. I decided to do the week (which I thought was plenty) so here is my Contiki Ski Austria reviews, a typical week in the Austrian Alps.
Click here to view the trip that I did.
Coach Ride to and from London
I was lucky on my journey that most people got a double seat to themselves. Coach takes between 18-21 hours and is overnight from London.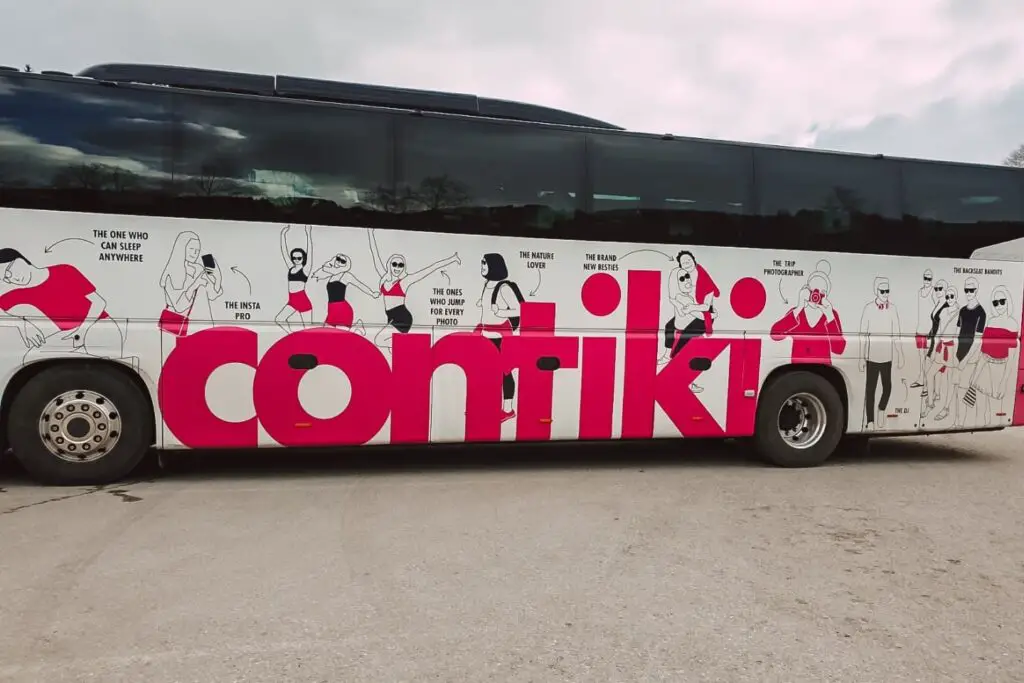 What's on the Coach?
Wifi (ask the driver for the password)
Toilet
USB Charging ports
Main TV (we watched horrible bosses, bridesmaids and 21 jump street)
The Additional Information And Costs
Ski Equipment for 6 days €65
Lift Pass for 6 days €259
Clothing x 1 and ski equipment for 6 days €42
Clothing x 2 and ski equipment for 6 days €82
Helmet hire for 6 days €13
Ski Storage €2
Upgrade Ski Storage €31
Ski Lessons €72 for 1 day, €155 for 3 days, €170 for 5 days
Snowboarding lessons €63 for 1 day, €130 for 3 days, €146 for 5 days
Private Lesson (max 2 person) €225
Extension Lesson €20
Half Board Dinners at the hostel €60 5 x 3-course dinners.
Additional Activities
Bobsledding €40
Paragliding €130. €25 for photos or €29 for videos and photos.
Night Ski/Tobogganing €30
Sight and Sounds Salzburg Walking Tour €12
There is a day trip to Salzburg which is included in the tour fees. These are just transfers too and from Salzburg. However, most people skied as we had already purchased a 6-day lift pass.
You can pay for the ski equipment, lift pass and ski lessons before you leave in pounds if you prefer. (I checked the exchange rate and it was really good so I did it all there).
The Contiki Ski Austria Hostel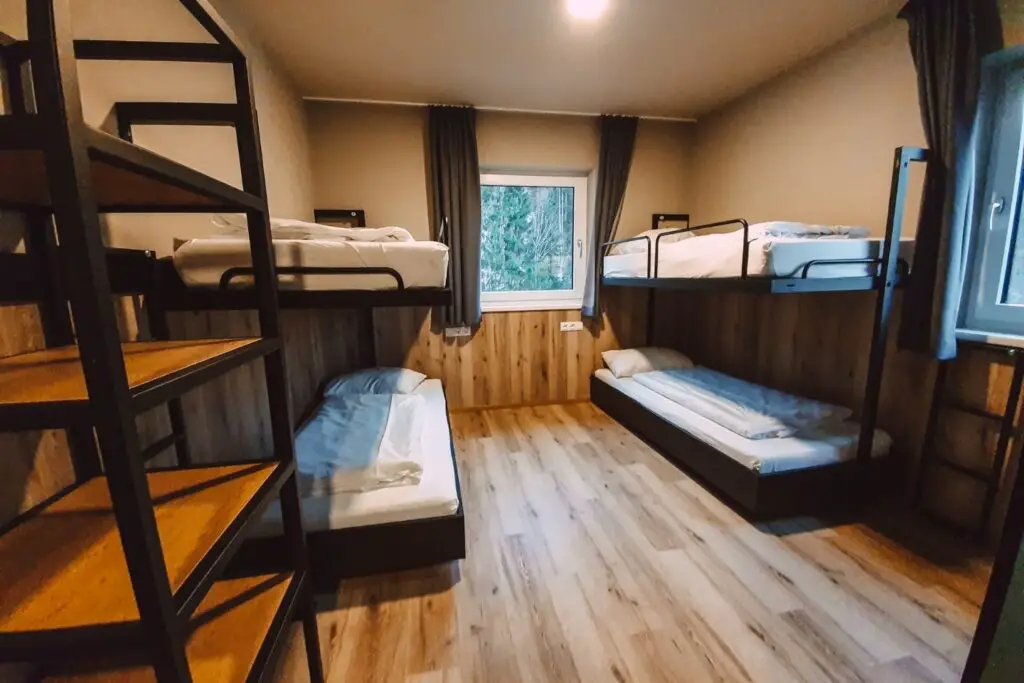 The Contiki ski Austria hostel is just a 20 minute walk/3 minute bus ride to the resort. As it is a Contiki hostel, only people who have booked with Contiki can stay here.
It consists of:
A quad share dorm room (option to upgrade to a twin)
Shower
Toilet
Sink
Shelves
Breakfast every morning
Coffee and Tea
NB: There is a sauna that is not attached to the hostel but a stone's throw away, which is free to use.
Contiki ski austria reviews
Breakfast is from 7.30-9.30 am every morning (this is included in the tour price)
Morning Shuttle to town is at 8.15, 8.45, 9.15, 9.45 and 10.15.
Evening Shuttles are every half an hour from 2.30 until 6 pm. The last gondola is between 4.30-5 pm depending on the day.
Half Board Dinners €60 for 5 x 3-course dinners (two nights you go out)
Dinner is at 7 pm for the five nights.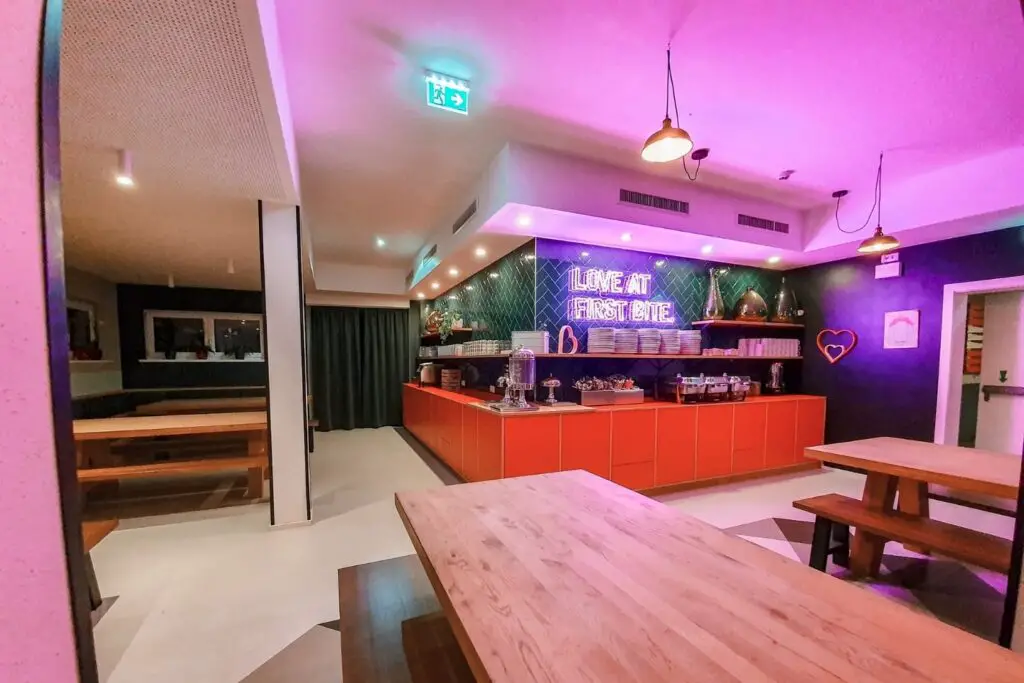 Towels and hairdryers are not included however you can get both items for a €10 deposit each which you give back the item at the end of your stay or if you no longer need it. Key cards if lost will cost €20 to replace.
Day 1
When you arrive in Hoptgarten you are sent to get your ski equipment and lift pass for the week. (deposit of €2 for lift pass which you get back when you return it at the end of your stay). You can also pay €2 to store your skis in the resort which I would highly recommend, it is so convenient. It is a short bus ride to the hostel (3 minutes) where I got my room card, sorted myself out before a welcome meeting and *dinner at the hostel. *everyone opted for the half board option for convenience and for the social element*
Day 2
If you opted for ski lessons this is your first day (3-day ski lessons cost €155). Everyone else headed for the slopes. There are so many places to eat lunch in the resort. I would highly recommend the igloo for drinks and for food there is a restaurant right at the top, next to the church. The views there are insane. Most people get a drink in Rundell's (convenient as it's on the way to the coach) before returning to the hostel. Dinner is at 7 pm. We had a quiz night and had a mixology session where we were taught how to make a tiki bull (red bull, vodka, elderflower cordial).
Day 3
Second Ski Lesson or Second day on the slopes. Dinner at the hostel at 7 pm.
Day 4
Third Ski Lesson. Third day on the slopes. If you wanted to go bobsledding (€40 inc transfers there) you headed there in the evening. Dinner was pre-ordered at Innsbruck where the bobsleigh was. I had a large chicken salad which was amazing, highly recommend it. The drive was around an hour one way. The bobsledding only lasts one minute but it was the most incredible experience especially if you are an adrenaline junkie. The journey to the start of the bobsledding track was interesting, to say the least. You got into an open truck (there was only limited seating) and you had to hold on for dear life. (I am not exaggerating in the slightest)
Day 5
Fourth day on the slopes. The first day was unaided for me after completing three days of ski lessons. I went paragliding (€130, €29 for videos and photos of the experience). In the evening it was white, bright and neon night. (For this day it was best to wear something white or bright, I didn't get that memo). Dinner was at the hostel.
There is also an option to head into Salzburg for the day (the home of the Sound of Music). I personally didn't go as I wanted to make the most of skiing however this experience is included in the price of the tour.
Day 6
Fifth day on the slopes. In the evening there was a choice of tobogganing or night skiing (€30) We had dinner at the location.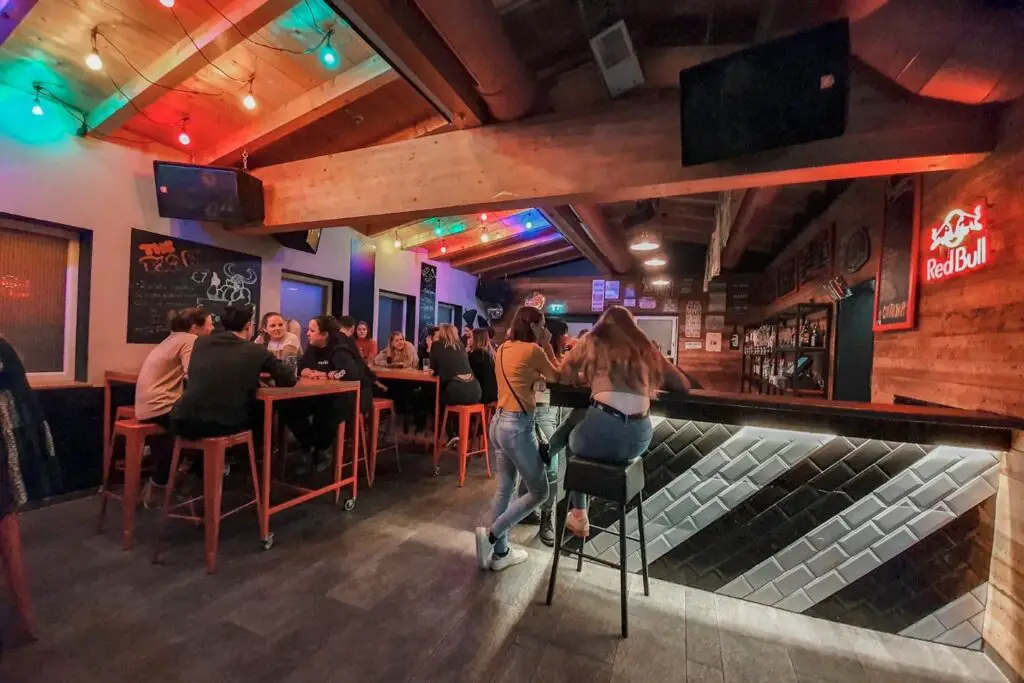 Day 7
The final day on the slopes. Dinner at the hostel. If you were getting the coach back to London, we left at 4 am as it was a 16-hour journey back to the UK.
To view the trip I did with Contiki click here.
Contiki Ski Austria Reviews
This Contiki Ski Austria trip is perfect for solo travellers who maybe haven't been skiing before but would like to try. Or it could be that you have been skiing before and have no one to go with then this holiday is perfect for you. I met so many like-minded people and because there are a lot of people with Contiki it was a great bonding experience. The additional activities were a bonus – if you are interested then I would 100% recommend them.