Camp Wildfire Review 2022. This was a gifted experience from Camp Wildfire. All opinions are my own.
What is Camp Wildfire?
Camp Wildfire is an adult summer camp in the UK. By day it is full of adventure with over 100 activities to choose from. By night there is a combination of fifty talks, music and comedy events to attend. If you love learning, discovering new things and meeting new people Camp Wildfire is for you. It is a perfect combination of adventure and festivals all packed into one weekend.
Camp Wildfire festival is not like a usual festival. You can book activities during the day and by night you can party or simply have a chilled night in your tent, its completely up to you.
Where is Camp Wildfire?
Situated in an idyllic forest in Sevenoaks, Kent.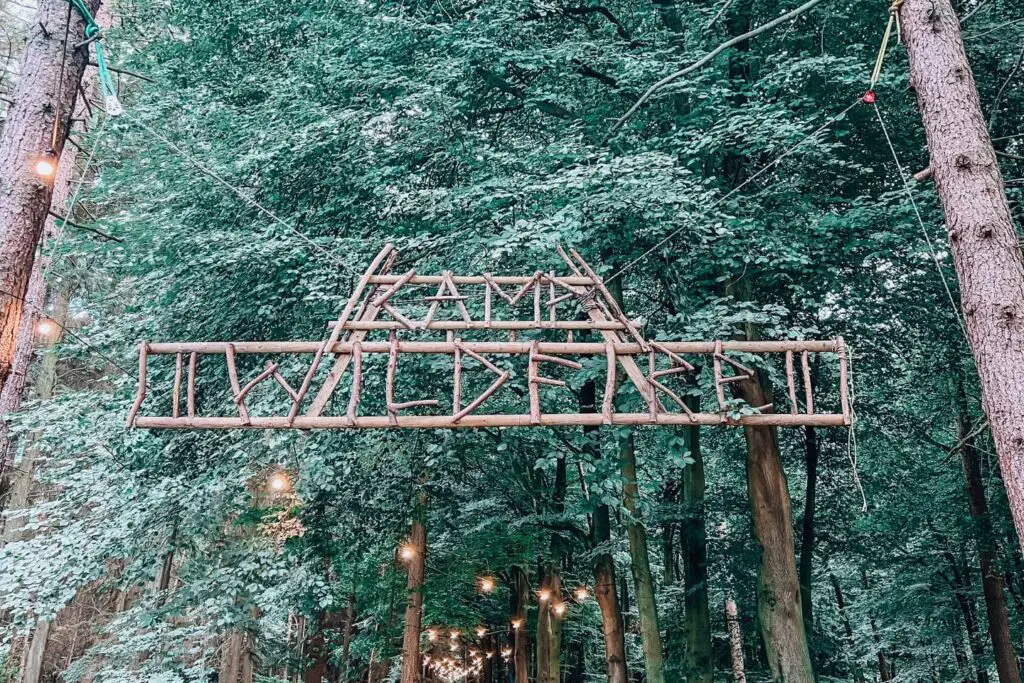 When is Camp Wildfire
The last weekend of August and the first weekend of September. They call it weekend 1 (end of August) and weekend 2 (beginning of September). I went to Weekend 2.
Camp Wildfire Founders
The Camp Wildfire founders are Julia Lowe and Lee Denny. They wanted to combine adventure and festivals and came up with Camp Wildfire Festival. A weekend where you can adventure by day and party by night.
Camp Wildfire Dragon's Den
You may have heard of Camp Wildfire before and it will probably be from the show Dragon's Den. The founders pitched to the Dragons in order to get an investment (SPOILER ALERT – they didn't do as well as they would have hoped).
Accommodation in Camp Wildfire
You have a choice of:
General Camping – (included in ticket price) you pitch your own tent.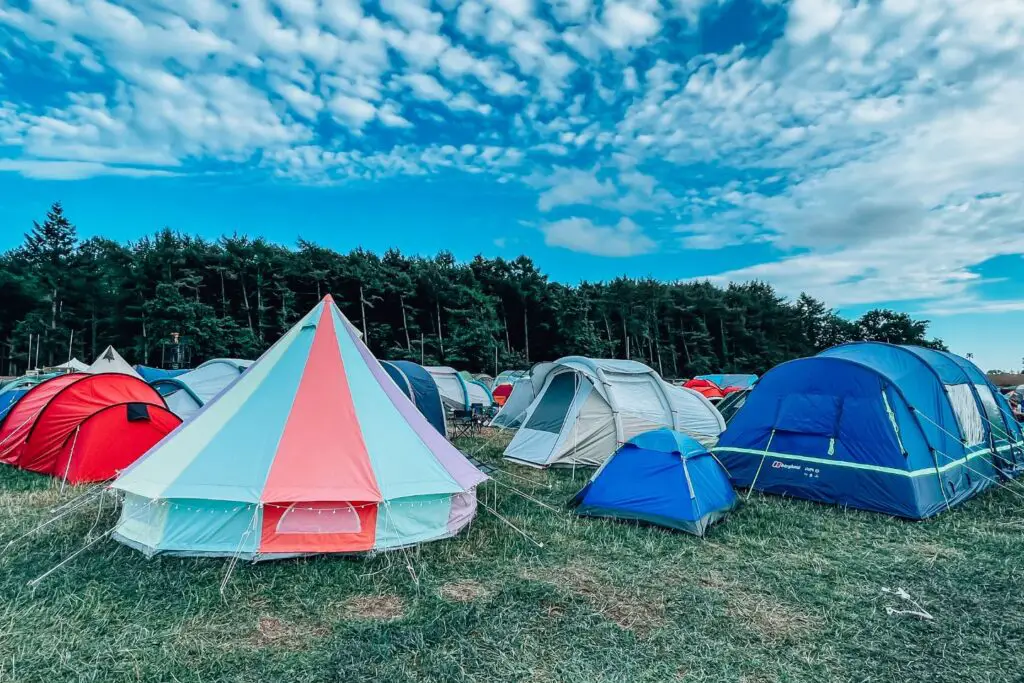 Pre-pitch Tent – (additional cost) only a tent is set up for you but you need to bring additional camping gear.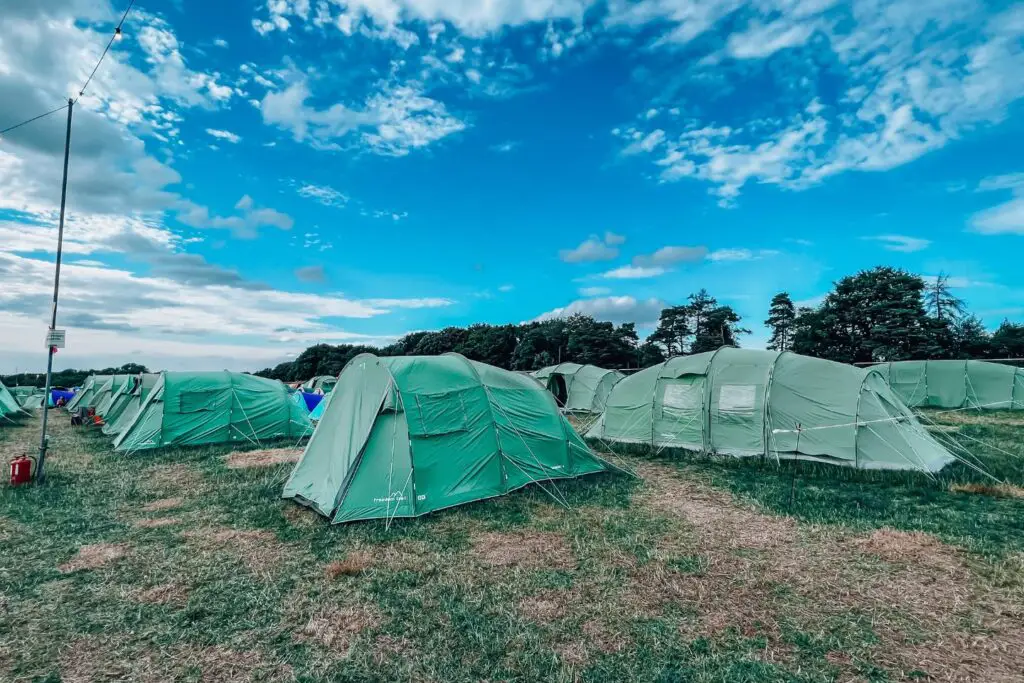 Boutique Camping – (additional cost) This is a bell tent. There are options here depending on party size and additional extras such as electrical sockets included in the price.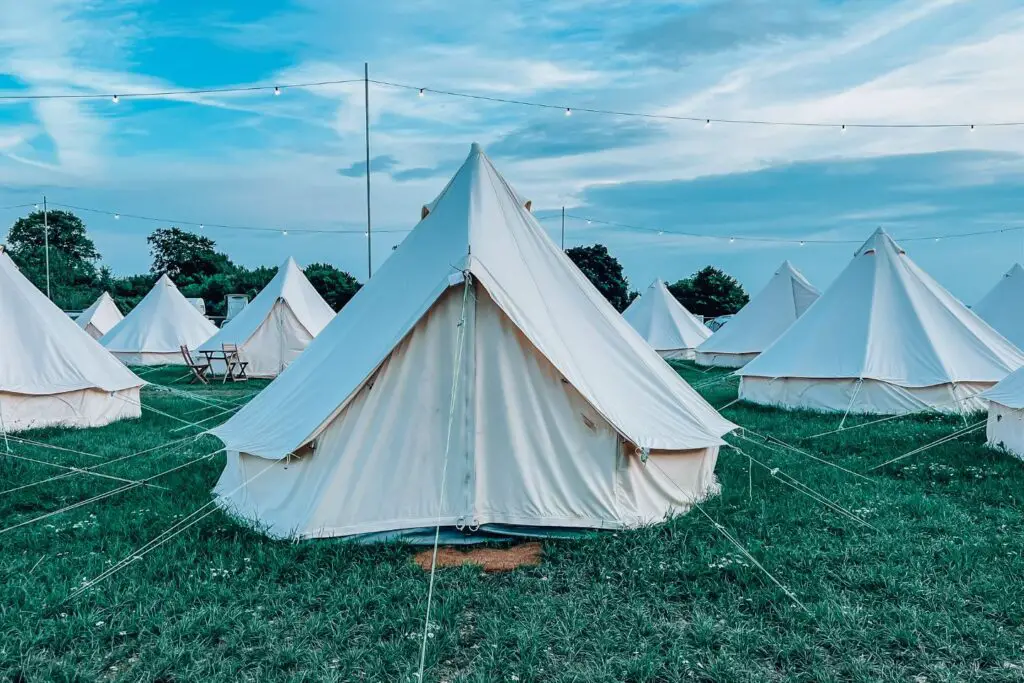 A word of warning if you do decide to upgrade to a bell tent (boutique camping). There are bugs particularly spiders that live at the top of the tent. If you don't like bugs or spiders I would advise sticking to general camping. I had to shake my bed every night as I didn't really want to share my bed with spiders.
Having said this the beds were relatively comfortable and we were given amenities such as shampoo, body wash and a towel for our stay. I am glad I upgraded as I have a bad upper back and I slept well all weekend.
Camp Wildfire Tickets
There is a choice of three ticket options. The standard ticket is the most popular.
Elementary Ticket:
2 Days of Adventure
3 Nights of Parties
60 Activity Credits
Unlimited Music
Unlimited Games
Unlimited Talks
Standard Enrolment
Standard Ticket:
2 Days of Adventure
3 Nights of Parties
120 Activity Credits
Unlimited Music
Unlimited Games
Unlimited Talks
Standard Enrolment
Dynamo Ticket:
2 Days of Adventure
3 Nights of Parties
Unlimited Activities
Unlimited Music
Unlimited Games
Unlimited Talks
Priority Enrolment
For updated costs and to book via the Camp Wildfire website click here
In addition to the above you also get:
General Camping – where you bring your own camping gear
Use of toilets and showers
A wristband and pin badge on arrival
Unlimited drinking water – there are many water points available just make sure you bring a reusable water bottle
Kettles and microwaves in the dedicated cooking area
Boutique Camping:
Use of toilets and showers – I found these to be a lot nicer than general camp and there were 9 female toilets and 6 showers
A wristband and pin badge on arrival
Complimentary toiletries – shower gel, eyemask, shampoo
A towel
A dedicated pamper room with mirrors and hairdryers
Camp bed, duvet, pillow, blanket
Kettles and microwaves in the dedicated cooking area
Electrical sockets are at an additional cost. You will receive an extension cable with two plugs available to use inside your tent.
Camp Wildfire Activities
Activities I did:
Quad Biking
Stand-up paddleboarding
Kokedama
Aerial Silks
Aerial Yoga
Sign Language
Cheerleading
These activities were drop-ins (simply turn up and queue):
Hot Air Ballooning
Axe throwing
Archery
Mini Golf
Cross Bow Shooting
Climbing Wall
Water Slide
Astronomy
Air Drop
Other activities you could do:
Cocktail Mixology
Raft Building
Tree climbing
Burlesque
Dodgeball
Zorbing
Rifle Shooting
Flying Trapeze
Survival Skills
Swing Dancing
Escape and Evade
Yoga
Photography
Mountain Biking
Shelter building
Ukelele
Terrarium Making
Nerf Battles
Flower Headdress
and many more
Camp Wildfire 2022 Enrolment
When you sign in to your camp wildfire account you will see many activities and times on your account. You will need to book these activities in advance as many activities will sell out quickly. Enrolment opens two weeks before the event. For Camp Wildfire 2022, tickets went on sale at 8 pm. Popular activities such as quad biking and stand-up paddleboarding got filled up incredibly fast. If you booked with a Dynamo ticket you will get priority booking which means you'll have the first choice for all the activities.
There are two different types of activities one that you can enrol in and the other is a drop-in. For all enrolled activities, you will need to book in advance. To give you an idea Quad Biking was 45 credits and aerial silks were 25 credits so they can add up very quickly.
Drop-in activities are when you simply drop into an activity – no need to pre-book, you simply queue up and have a go. You will only get around 3-4 tries though, if you want to have more goes you will need to queue up again. These activities include hot air ballooning, archery, crossbow shooting and axe throwing.
Camp Wildfire Festival – going solo?
If you want to go to Camp Wildfire and don't have anyone to go with don't worry. In general camping, there is a whole pitching section just for solo travellers so you can make friends in no time. Everyone at Camp Wildfire is super friendly. I went with my friend but we did a few of the activities by ourselves and everyone was welcoming.
How to get to Camp Wildfire
By Train
Nearest Train Station -Borough Green & Wrotham 
Shuttle Bus to/from Borough Green & Wrotham to Camp Wildfire:
Friday: Borough Green & Wrotham station to Camp – 11.30 am to 8.30 pm
Saturday:  Borough Green & Wrotham Station to Camp – 8 am to 12 pm
Sunday: Camp to Borough Green & Wrotham Station – 6 pm to 10 pm
Monday: Camp to Borough Green. & Wrotham station – 8 am to 2 pm
By Taxi
Sevenoaks Taxis – 01732 456241
Vine Taxis – 01732 462400
Beeline Taxis – 01732 456214
Ashlin Taxis – 01732 753535
Sevenoaks Cars – 01732 454544
Oaks Taxis – 01732 741122
By Car
Camp Wildfire postcode: TN15 6FP
Or you can simply type in "camp wildfire" into google maps. Once to get closer to the venue check the road signs so that you get to the correct entrance. The road leading to Camp Wildfire is very narrow – just so you are aware.
Note: There is an additional cost to park your car
Arrival/Departure Times:
Arrive at 12 pm on Friday
Leave anytime on Monday (usually, people are gone before midday)
If you are in general camping I would advise getting there as early as possible. This is so you get a "good" camping spot that isn't too far away and you have spare to pitch your tent. You can pitch your tent anywhere you like. There are also accessible and solo camping areas available.
Camp Wildfire Shuttle Bus
Camp Wildfire offers a shuttle bus that takes people to and from the train station if you do decide to take public transport instead of driving.
Camp Wildfire Parking
If you would like to drive to Camp Wildfire you will need to purchase a parking permit when you book your ticket online. You will then be given a QR code which the parking patrol will scan when you arrive at Camp Wildfire.
Make sure you screenshot your QR code as the signal is very limited at Camp Wildfire. I would also advise getting there as early as possible. This is so you can park your car closer to the entrance (so you don't have to lug your luggage far) and so you get a good spot to pitch your tent. If you come late your tent will be really far out from the main camp and you may not have enough room to pitch.
If you are in the boutique camp this is not really an issue as there arent as many cars and everyone was really close to the boutique camping entrance.
Additional Extras
The Spa. If you want to relax in a wood fire hot tub or have a massage, the spa is for you. You can book this as an add-on when enrolment begins.
Car Park – sadly this is an additional cost
Electrical Sockets for your Boutique tent (if not included in price)
Food and drink. Food is quite pricey for street food however all the food I had was good quality.
Camp Wildfire Map 2022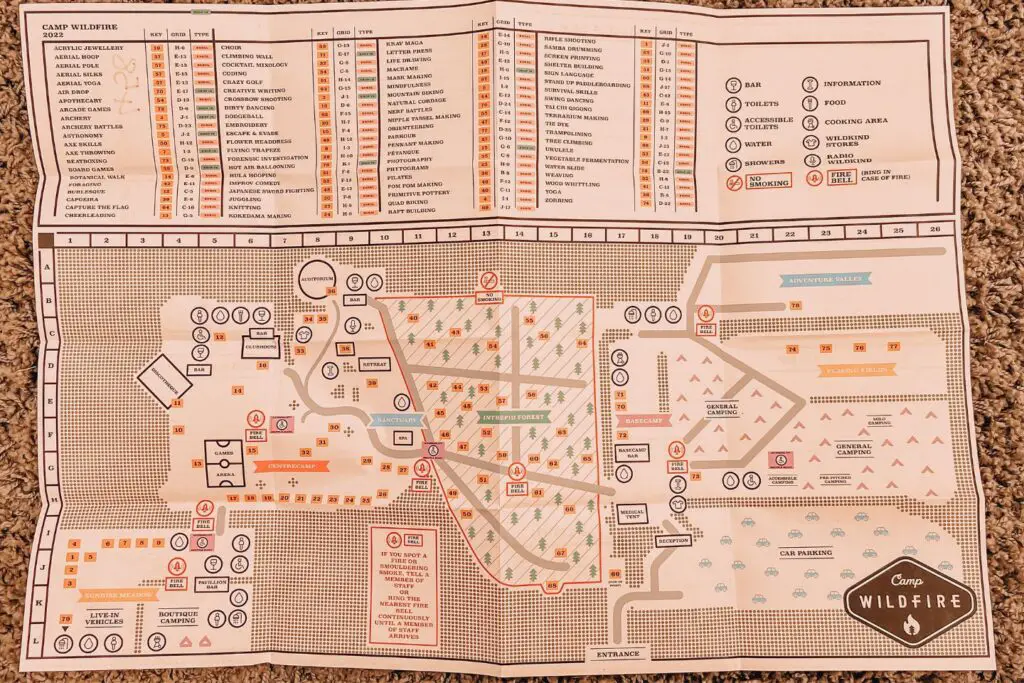 Upon arrival, you will receive a general camping wristband (and an additional paper wristband for boutique camping), a pin badge and a map (as shown above) I would advise taking a photo of this on your phone so you can reference it throughout the weekend. I lost about 3 from my time there.
Food and Drink at Camp Wildfire
There is a selection of food and drink at Camp Wildfire. Food costs are around £10 for street food, think mac and cheese, burger, hot dog. The majority of food is at the centre camp but there are some in general camping. The food quality was generally really good. Camp Wildfire cater for all dietary requirements including Vegetarian, Vegan, Gluten-free and dairy-free.
You can bring your own food. However, there are only kettles and microwaves available. You can bring your own gas stove but only certain types are available – please see the website.
For drinks, Camp Wildfire has a reusable plastic cup system where you save £1 on every drink when you reuse your cup. The cups were also branded so I took mine home as a souvenir at the end. Drinks were around £5-10 depending on what you got. They offer a selection of Beer, Cider, Spirits, Wine and Soft Drinks available day and night. You could bring your own alcohol if you wanted. Bottles are not allowed.
Is Camp Wildfire good?
If you love camping, meeting new people, love being active and partying this is the place for you. There are so many activities to choose from you will be spoilt for choice. It is an amazing concept and a fantastic place to meet new people especially if you are going solo.
How many people go to Camp Wildfire?
Around 2,000 people. There are limited tickets available as they want to keep it small but still have a great community feel. The whole camp is quite large and most people will be at general camping.
Everything is paid via contactless at Camp Wildfire (they even accept Amex) no need to take any money (or cards for that matter)
Camp Wildfire Review – what to pack
Camping gear – sleeping mat, sleeping bag, pillow
Camping Chair – great for sitting outside and socialising
Head torch – handy for hands-free searching in your bag and finding the toilet in the middle of the night
Wellingtons/hiking boots
Raincoat/umbrella
Trainers – I spend the majority of the day in trainers. Camp Wildfire is in a forest and there are a lot of rocks so sandals aren't the best idea.
Flip flops – mainly for the showers they can be nasty
Reusable water bottle – there are many water taps around camp for you to fill up
Bum Bag – so you are hands-free, great for activities and parties!
Activewear – depending on the activity
Swimwear – if you want to do any water activities such as SUP or the water slide
Towel
Power bank for phone – if you have two bring two
Toilet Roll – some toilets did run out
Hand Sanitizer – again some toilets ran out. In the centre camp, they only provided hand sanitiser so they could save on water. You can wash your hands normally in the campsite toilets.
If you forget anything there is a general store on site that provides the basic necessities. If you are looking at other things to pack check out Recommended Informative Backpacking Gear List for Beginners for some pointers.
What to wear at Camp Wildfire?
Many people liked to wear their patrol colours ie Green for Hawks, Blue for Badgers, Yellow for Squirrels and Burgundy for Foxes however this is not essential. You can wear whatever you want.
If you would like to purchase merchandise from Camp Wildfire there is a wildkind store that will cater for your needs. This included camp uniform and pins for badges.
Camp Wildfire Review – Events
There are some additional events at Camp Wildfire that may be of interest.
Patrol Games
On the first night (Friday) you will follow the band to the centre camp to watch the patrol games. On enrolment, you will be given the chance to choose your patrol which are:
Heroic Hawks: Gentle, but determined; strong and valiant. Very able with good mental agility: the first to catch the worm.
Bonkers Badgers: Fun, cheeky, 'a bit loopy', passionate, resilient and fun-seeking. Less active through the day; really comes to life at night.
Stealthy Squirrels: Cheeky, entertaining, sociable and energetic – loves having fun with others and making the most of the day.
Fearless Foxes: Intelligent, creative and cunning; can be a bit of a trickster. Prefers nighttime but has been spotted playing in the daylight too.
During the weekend you can earn tokens for your patrol to help them win the patrol cup. You can choose how much you want to be involved. I managed to get two tokens for the Hawks.
There is a patrol games finale on the last night (Sunday) where the winning patrol will get the patrol cup. The Hawks won the patrol cup on weekend 2. (Yay go Hawks!)
Singles night – Cupid
This is an event for singles at Camp Wildfire to mingle and chat with each other. You can purchase a cupid's badge from the wildkind shop (for £7) and they have a regular heart badge or a pride badge.
You will get some postcards when you buy your badge and if you see someone you like you can leave them a note and pop it on the board situated next to the games room.
On the last night (Sunday) there is the cupid meet-up in the main patrol games arena where you find people you like and talk to them.
Music/Talks/Games
All of these are included in your ticket price and you do whichever tickles your fancy. You can also move between them if you are not sure. Some of the talks were crowded so if there is an event you really want to attend I'd advise getting there early so that you can see and hear what was going on.
There were also quizzes which I particularly enjoy where you can find team members and take part.
Camp Wildfire Review
Overall I thoroughly enjoyed myself at Camp Wildfire and I would consider going back next year. The cost especially boutique camping is quite expensive however they do have payment plans.
If you have any additional questions please feel free to leave a comment and I shall get back to you. I hope you have enjoyed my camp wildfire review. Let me know if you've been to Camp Wildfire or are considering going next year!