Visit Portmeirion Village in North Wales
If you are looking for a nice day out with a variety of things to see and do, look no further than Portmeirion in North Wales. I found this place on social media and it looks like it doesn't belong in Wales. I actually made my friends believe that I was in Italy and no one questioned it. This is a tourist attraction and can therefore get very busy especially in the holidays. I spent half a day here which I found was plenty to see everything however if you do decide to have lunch or afternoon tea you may want to stay longer.
Sir Clough Williams-Ellis transformed Portmeirion in North Wales into an Italiante miniature village back in 1925. The village is a pastel wash of colour in the style from Arts & Crafts to Classical to Baroque. Willaims-Ellis wanted the Italian vibe but without travelling to Italy so created it in Wales.
Are you looking to travel to North Wales? Look no further than my North Wales Travel Guide for people who want to make the most of their travels but keep the cost mega low.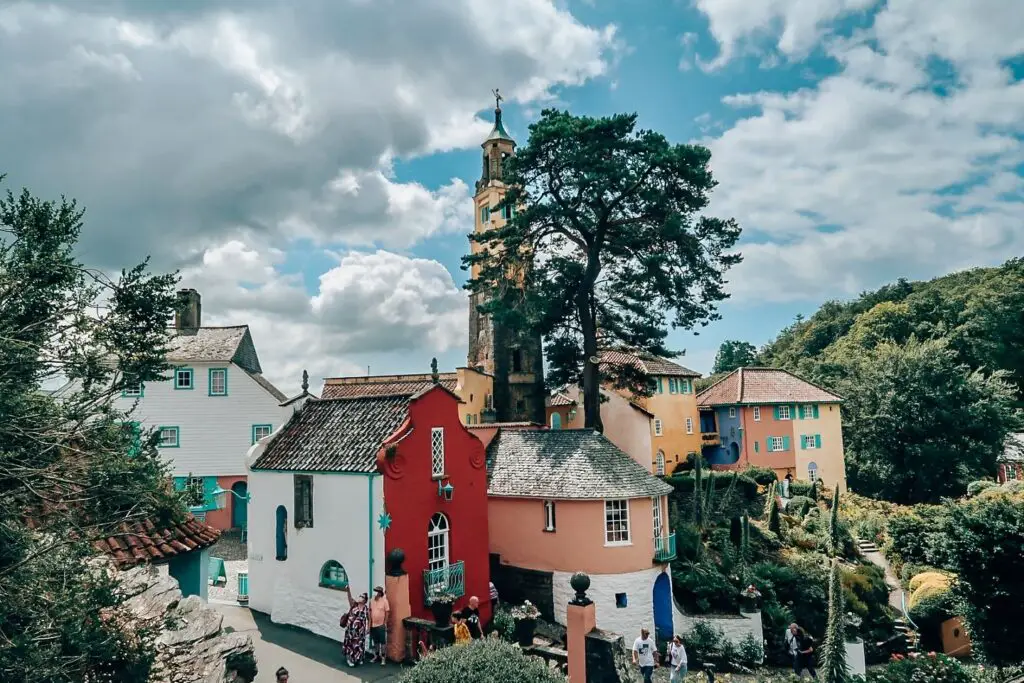 Portmeirion in North Wales Prices
Day Ticket Prices:
Adults – £15
Concessions (students/anyone ages 60+) – £12
Children – £9
Under 5s – free
Family from £26
They also have annual passes if you do want to visit again.
Portmeirion Opening Times
The village opens daily at 9.30 am and closes at 5.30 pm from Monday to Sunday. Portmeirion is closed on Christmas Day.
Directions to Portmeirion in North Wales
By Car:
Address:
Portmeirion Ltd.
Minffordd, Penrhyndeudraeth
Gwynedd, LL48 6ER (see below)
By Bus
Buses run frequently to Portmeirion make sure you check out the Traveline for more details.
TV Series filmed in Portmeirion
Are you aware that there have been some TV series filmed in Portmeirion in North Wales? It was the setting for the 60s show The Prisoner and the show "The Village."
Things to do in Portmeirion in North Wales
Portmeirion Woodland Walk
I would highly recommend doing part of the woodland walk around Portmeirion. It spans 70 acres of woodland and 20 miles of walking. Look out for the Chinese Lake, the Ghost Garden and Tangle Wood. I found it very peaceful and it was great to be going on an adventure again. The woodland walk can be quite narrow and you are surrounded by trees a lot of the time. This makes it very difficult if you find people coming the opposite way to you.
Portmeirion Coastal Walk
If a woodland walk is not tickling your fancy how about a coastal walk? Do make sure you look at the tide times for this. It is actually printed on your entrance ticket something that I didn't look at until I found another adventurer pointing it out to me. I happened to have gone in high tide. A few people did take their shoes off and walk to the beach but seeing as I am only 5ft nothing I decided to turn around and come back later. The beach was beautiful and very empty (I don't think many people knew about it). So if you are looking for some relaxing time head there.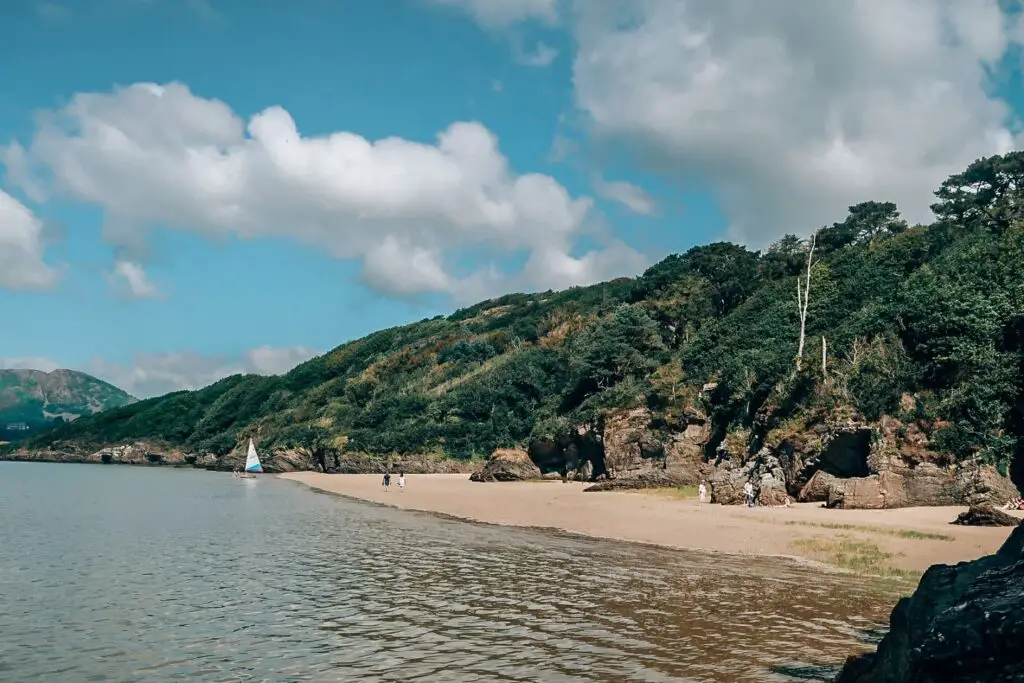 Portmeirion Restaurants
If you would like to eat in the restaurant you will need to book in advance. As you can imagine it can get very busy especially during lunch and dinner time. If you prefer they do have little cafes where you can get a coffee or an ice cream. The queue for the ice cream was mega long and it cost £3 for a cone – although it was hot I felt like it wasn't worth the cost or wait. Do be aware that it is expensive so it may be wise to bring a picnic and save the dosh.
Llechwedd Slate Caverns
Not budget-friendly however this is such a unique experience I'd thought I would include it.
Do you fancy a tour of a mine? if so head to a deep mine tour in Llechwedd Slate Caverns. Submerge yourself 500ft underground and learn about the mine's 16 underground layers as well as where they made Llechwedd cheese mature.
Wrap yourself up as it is colder underground and be warned that there are explosive special effects. There is an array of special light effects using enhanced technology so this activity isn't cheap however it does sound pretty awesome, to be honest. This will set you back £60 per person and only lasts up to 1.25 hours.
FAQ & Additional Information
Love this post? Why don't you save this for later