Backpacking Guide for Beginners
If you are a beginner backpacker and are absolutely clueless, you have come to the right place. I will share with you all my tips and tricks of backpacking and how to get starting on your journey of a lifetime. I started backpacking back in 2016 after I worked at a summer camp in the US for three months. My working visa then allowed me to road trip across the US, a trip that I will never forget. Since then I have backpacked through Europe and even completed 48 states of America in just 75 days. Welcome to my guide to beginner backpacking.
Getting Started in Backpacking
The hardest part of backpacking is getting started or knowing where to start. In this section, I will guide you through the basics of backpacking, a backpacking gear list as well as tips and tricks for beginners. Backpacking has taught me so many things, allowed me to learn about different cultures and meet the most amazing people across the globe. I know it can feel daunting at first and I am here to help.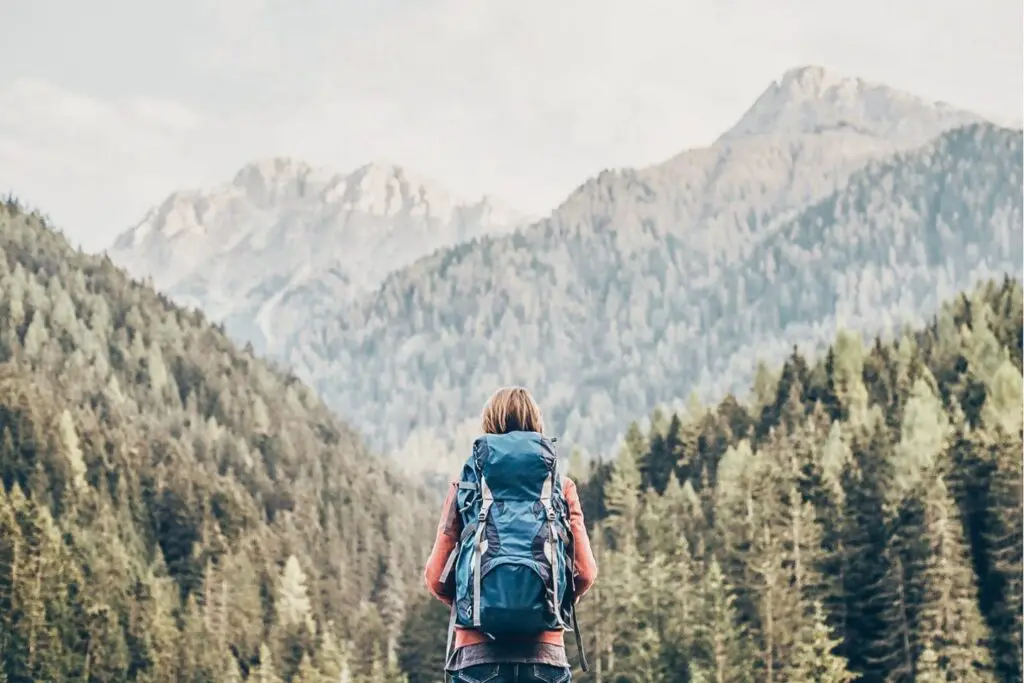 Backpacking Basics for Beginners
I bet the question you are asking is where the heck do I start? If you are completely brand spanking new to backpacking I would write a list of everywhere you would like to visit. This can include countries, cities even national parks if that's what you are into. Once you've made this list pick your top three and research. You can never do too much research. There's maybe one particular country you have been dying to visit, start there. Look at cities and what do in those cities. I personally love finding hidden gems that are so secluded. I try and avoid all the touristy areas as much as I can which has proven fairly difficult at times.
Top Tip: If you are very nervous about backpacking I'd advise picking a country that predominantly speaks your language. This will take some pressure off and in my opinion, is a great way to introduce you to backpacking.
Beginner Backpacking Gear List
Let's start at the very beginning (sings the sound of music) with a backpack. What backpack should I take? There are so many backpacks these days and honestly, the best way to find one is to go to a shop that sells multiple brands of backpacks. Shops like Go Outdoors, Millets and Blacks are great options. That way you can see a full range and get an expert opinion on your needs. Once you know which backpack is right for you be sure to check online elsewhere as you may be able to find it at a cheaper price.
Next comes what do I need to pack? Before I began my adventures solo I would take everything including the kitchen sink. I was only of those people who brought items just in case I needed them but in reality, I didn't use them at all.
Below is my "everything I need list", please note that I do not bring absolutely everything on this list, it is more of a guide so that I do not forget anything.
Check out Recommended Informative Backpacking Gear List you need for Beginners
Backpacking Tips for Beginners
I have so many tips and tricks for backpackers that I have learnt from experience. I am going to give you my top three right now.
Have two purses. One that you take with you on your day trips, making sure you only take the money that you need for the day and the second you leave at your hostel. In case of loss or theft, you won't have lost ALL your money in one hit.
Do your research on the weather. I went to India in January 2020 and I always thought India was always hot. I was wrong. It was around 6-10 degrees celsius and I was cold. Always check the weather for the time of year you will be backpacking.
Don't pack items you may or may not need. When I first started backpacking I would pack item "just in case" in reality I hardly used them and it used up valuable space. Only take items that you love and will generally use.
Related Post: Best Travel Cards For Backpackers From The UK
Backpacking and Staying in Hostels
Hostels are amazing for backpackers and here's why. They are the cheapest form of accommodation and they are a fantastic place to meet friends. You are after all sharing a room with each other. I absolutely love the social aspect of hostels and many of them offer free events such as walking tours or bar crawls (depending on what you are into).
Common questions I usually get asked are what is a hostel? what do I need to take to a hostel? There are many misconceptions about hostels and I am here to tell you they are not that bad. Sure you have to share a room and a bathroom with strangers but for the cost, I believe it is worth it.
Check out Really Helpful Tips For Staying In Hostels For Backpackers for a more detailed of what it is really like to stay in hostels.
Beginner Backpacking Trips
Now comes the question of backpacking trips. This will depend on if you prefer going solo or part of a group. I have done both and there are pros and cons to each. For beginners it can be nerve-racking going solo for the first time, I know as I've been, however, the freedom you get when you solo travel is second to none. You do what you want to do when you want to do it.
Group travel is restricted with time and you are only in the same place for one or two days. Also, the itinerary is set so you know where you are going to be all the time. This can help with loved ones at home if they are worried about you.
If you are interested in group travel here are many companies that I have personally been with. I have personally been on two trips with Contiki, the world's leading travel company for 18-35-year-olds. My favourite trip is their week-long ski trip to Austria. Please click here if you are interested in this trip.
How to Prepare for a Backpacking Trip
Organisation is key, especially before your trip. Here are some things to think about.
First, fish out your passport and check that it has at least six months before it expires (some countries will not let you in if it is less than this)
Second, get the relevant jabs for the particular country you are travelling to (and make sure it is far in advance) I had my jabs for India a few days before leaving as I left it too long and they said it can take two weeks to become effective.
Third, always have your accommodation and transfers from the hostel well planned out before you leave. This may be public transport mapped out and saved on your phone. You don't want to arrive in a new place and end up with nowhere to stay or having to figure out how to get to your accommodation.
I hope you have enjoyed my beginner backpacking guide, if you have any additional questions or would like another topic for me to cover, please do let me know.
Best Backpacking Backpacks for Beginners
There are so many to choose from I know as I've been there. First, you need to look at WHAT you are going to use your backpack for. Is it for hiking or just general travel? Then there is the size. What size do I need? Will you put your backpack in the hold or would you like it in the cabin with you. These are just a few questions to ask yourself.
For the backpacks that I personally use and for more information on what size and how to get the best backpack for you check out Best Backpacking Backpacks for Travelling.
Best Travel Apps for Backpackers
There are so many apps out there from flights to planning your trip, to walking trails. If you want to know which apps I use check out my post here The Best Free Useful Travel Apps for Backpackers. All of these apps are completely free and believe me when I say they are completely worth it and I am so glad they are always on my phone.